Get notified when new promo codes arrive from The Popcorn Factory
You will be alerted about deals at most once per week. You can always unsubscribe.
About The Popcorn Factory
The Popcorn Factory has been in business for over 35 years and was originally founded in 1979. The company quickly became the 'authority' for popcorn as more people became introduced to the unique approach that The Popcorn Factory took to this tasty treat. What's the secret? The Popcorn Factory only uses the finest corn from the United States, pops the corn in 100% corn oil, and then creates its own unique infusions of some of the best flavors possible. It has been said that the The Popcorn Factory actually pops over a million pounds of popcorn each year.
If you have never tried anything from The Popcorn Factory before, you might not know what to expect. Lucky for you, Coupofy has a variety of The Popcorn Factory reviews and other information to let you know what kind of deals and service you can expect from this popular vendor. With Coupofy, you'll never miss out on any more great Popcorn Factory specials ever again.
What Can You Typically Find at The Popcorn Factory?
The Popcorn Factory has an impressive selection of popcorn flavors and gifts to choose from. To make it easier for you to find what you want or what someone else may enjoy, everything is separated into several categories. You can shop by holiday and occasion, product, flavors, fundraising options, wholesale items, and corporate gifts. Many of these items can be paired with The Popcorn Factory promo code when you checkout so that you receive some of the most delicious popcorn for an incredibly low price.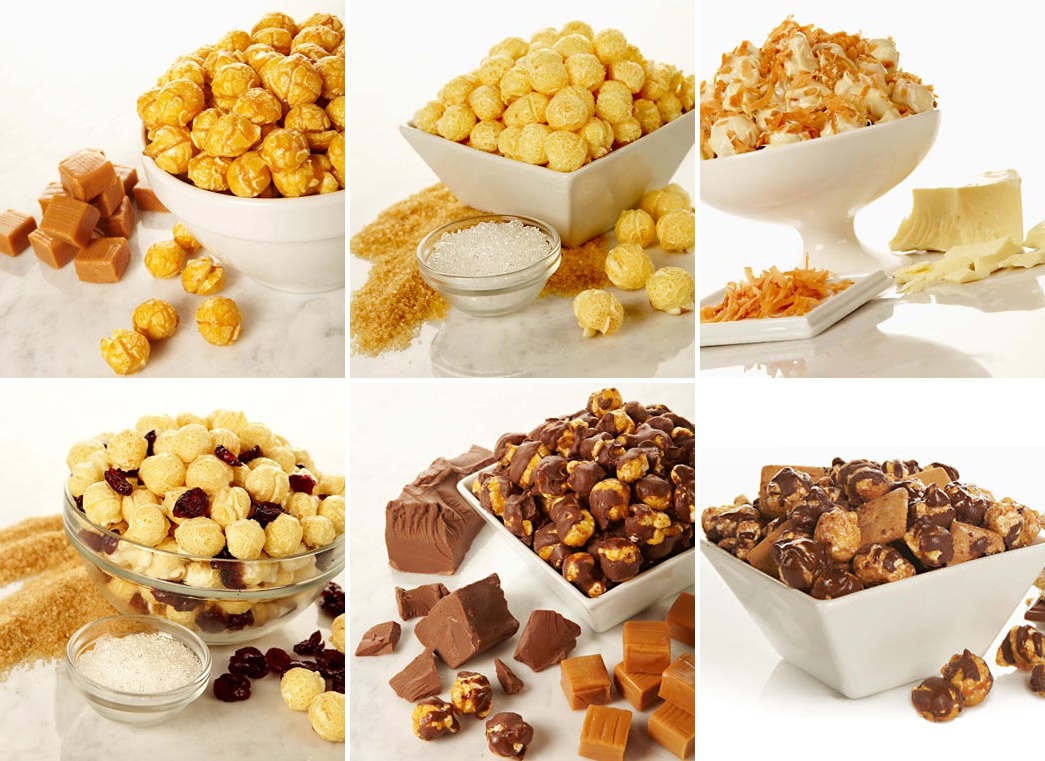 If choosing to shop by product, you will find that there are numerous choices worth consideration such as popcorn balls, care packages, college gifts, popcorn tins and more. You can also save money by selecting deals such as The Popcorn Factory 14.99 special or The Popcorn Factory 19.99 special which provide you with some of the most popular flavors available.
Of course, many people associate popcorn tins with the presents that they typically receive during the holiday season. Truthfully, you can gift popcorn to someone during any time of the year and you can even find some interesting variations of gifts if you are interested in corporate options. While the popcorn tins of yesteryear continue to be a popular choice for many holidays and occasions, there are many other gifting options to choose from, such as personalized gifts or unique snack sets. Although The Popcorn Factory is known for its popcorn, it also offers cookies, pretzels, and even candy in its gift sets.
Why You Should Gift the Joy of Popcorn
If you've ever struggled with trying to figure out the perfect present for someone, you already know how challenging and frustrating it can be to find a decent gift. What if they don't like it? What if it's not their style? This is even more so the case when you're buying a present for someone you don't know very well. Thankfully, nearly everyone likes popcorn and can easily appreciate a popcorn sampler or a snack giftset.
Not sure if they love or hate a specific flavor? Your next best option is to consider providing them with a gift card to The Popcorn Factory. While it seems like a simple present, it can be very fun for a budding popcorn lover or even a veteran popcorn lover to browse through the dozens and dozens of flavors that The Popcorn Factory offers.
How To Get A Pittsburgh Popcorn Factory Coupon Code
After a few moments of browsing The Popcorn Factory's website, you'll understand how it's extremely easy to get caught up in the variety of flavors and popcorn gifts available. But before you go on a shopping spree on the site, don't forget to find The Popcorn Factory promo code that you need for the best savings. Not sure how to get a promo code? The process is actually very simple.
Sometimes The Popcorn Factory will list the different coupon codes that are currently available and being accepted. This happens if the site is doing a large promotion. More often than not, however, the The Popcorn Factory coupon that you are searching for is not listed on the site and you have to look for it elsewhere. The most popular place to begin your search is actually your email. If you sign up for the site's email notifications, you will receive an email any time there's a new promotion or offer available. These are typically redeemed with the use of a coupon code.
Another viable option which has worked well for customers in the past is to follow The Popcorn Factory on social media. This will occasionally provide you with access to a coupon The Popcorn Factory wouldn't post on its website or even in the email newsletter. This happens when there's a flash sale, particularly low stock on some items, or the company just wants to reward its social media demographic. These types of coupons are few and far between, but when you can get them, they are truly worth it.
Signing up for loyalty programs is always helpful because it often provides you with exclusive deals that aren't going to get posted elsewhere. If you sign up for the loyalty program that The Popcorn Factory uses, you'll get access to at least one promotion code The Popcorn Factory won't deliver to its email subscrbers. Loyalty program members go onto a separate email notification list which provides them with access to deals that never get posted anywhere else.
Reap All the Benefits of Celebration Rewards
Joining a loyalty program is another way that you can save money while shopping, aside from choosing to use The Popcorn Factory coupon. First, register an account with Celebration Rewards for free, then start shopping to start earning your points. You will receive one point for every dollar that you spend. You can also increase the amount of points that you have by taking advantage of special bonus offers. When you have finally earned 200 points, you can receive a $20 Savings Pass that you can spend however you want.
Although you would primarily be earning your points through shopping at The Popcorn Factory, you can actually earn and redeem points across a variety of brands within the same family including 1800Flowers, StockYards, 1800Baskets, Cheryl's, Fannie May, Fruit Bouquets, Harry & David, and more. Joining Celebration Rewards also provides you with additional benefits such as a free anniversary gift, access to exclusive offers and deals, early access to new products, opportunities for bonus points when you opt in to receive rewards emails, and gift reminders. It's a great way to enjoy many more The Popcorn Factory deals while you shop in the meantime.
Since the points and rewards are shared among multiple family sites within the corporation, what this also means is that if you frequently shop at those other sites, even if it's just to send flowers to loved ones or purchase candy, you'll always have points to redeem and spend with The Popcorn Factory. If you frequently like to gift your friends and family throughout the year, you will be even closer to redeeming The Popcorn Factory promo code for a $20 Savings Pass.
How Is The Popcorn Factory Coupon Used When Shopping?
When you're finally shopping, it's time to use those coupon codes that you've collected. Put all of the items that you want to buy into your shopping cart and then navigate to the cart to begin checking out. You will be asked for payment and shipping information during the checkout process. At some point, you will also be asked for your The Popcorn Factory promo code. Provide the code that you found earlier and apply it to receive the discount.
If everything is successful, you should see the discount applied instantaneously. If you do not see any discount applied, then there's likely something wrong with the coupon. Check to see if the code was written correctly into the box provided and try applying it one more time. If it still doesn't work, you will need to try another The Popcorn Factory coupon.
There are numerous reasons why coupons don't always work. Sometimes the coupon has expired, in which case you will need to get a new coupon entirely. If you are trying to use a coupon from 2015 instead of Popcorn Factory promo code 2016, it's highly unlikely that the older coupon will work. Using the most recent coupon available is highly recommended. For example, if you choose from any of the Popcorn Factory coupon codes 2020, you shouldn't have any problem with redeeming your discount.
Sometimes coupons also don't work because they have specific conditions that need to be met in order for the discount to be applied. For example, if you have The Popcorn Factory coupon that requires a certain type of popcorn or gift to be included in your cart and you haven't put those items in your cart, the coupon isn't going to work until you fix the issue. Other times, some coupons just don't work because there's an unknown issue that may have occurred when it was released. If you think that The Popcorn Factory promo code you have selected should work and that none of these errors are responsible for the problem, contacting customer support should help you to solve the issue.
Shipping Policies
The Popcorn Factory aims to deliver your order to you as soon as possible, especially if you have requested your order by a specific date. Your order will be shipped with USPS or FedEx depending on the shipping method that you have selected. At the moment, The Popcorn Factory is able to offer ground shipping, 2 day shipping, overnight delivery, and Saturday shipping. Shipping costs will vary depending on the total of your order, the weight, and the location of where it is being shipped. If you are interested in waiving your shipping fees, you can use The Popcorn Factory free shipping code for savings. This code will only apply to free shipping for ground delivery.
The Popcorn Factory is able to ship to APO/FPO addresses, Canada, and International locations. However, it is important to note that orders to Canada and International locations cannot be placed online. To place these orders, you will have to call the The Popcorn Factory phone number at 1-888-216-0235.
Do You Love Popcorn? Try Shopping at The Popcorn Factory!
Popcorn has long been a favorite treat of many people around the world. If you can't get enough popcorn and you're interested in trying something new, shopping at The Popcorn Factory may be a great option for you to consider. With the extensive variety of flavors available, you'll never run out of options to try or share with your friends and family. Likewise, The Popcorn Factory offers many different gifts and related items that can make great presents for your loved ones.
When you shop at The Popcorn Factory, you don't have to worry about buying your favorite popcorns in bulk. While specialty popcorn can sometimes be a little pricey, you won't have to worry about spending too much at this store. The numerous coupon codes and discounts available will ensure that you can always fit a new flavor of popcorn into your budget, or even several tins of popcorn as surprise gifts for your friends. The Popcorn Factory coupon of your choice will always make your upcoming purchase more affordable and help you to take one step closer towards earning a reward certificate. Much like popcorn, it's truly a win-win situation when you shop at the The Popcorn Factory.
Comments