Get notified when new promo codes arrive from eBay
You will be alerted about deals at most once per week. You can always unsubscribe.
About Ebay
Ebay traces its roots back to 1995 during the dot com boom. Originally it was known as AuctionWeb and was developed by Pierre Omidyar who simply listed his own products in the beginning. To his surprise the first sale he made was a broken laser pen that earned him $14.83.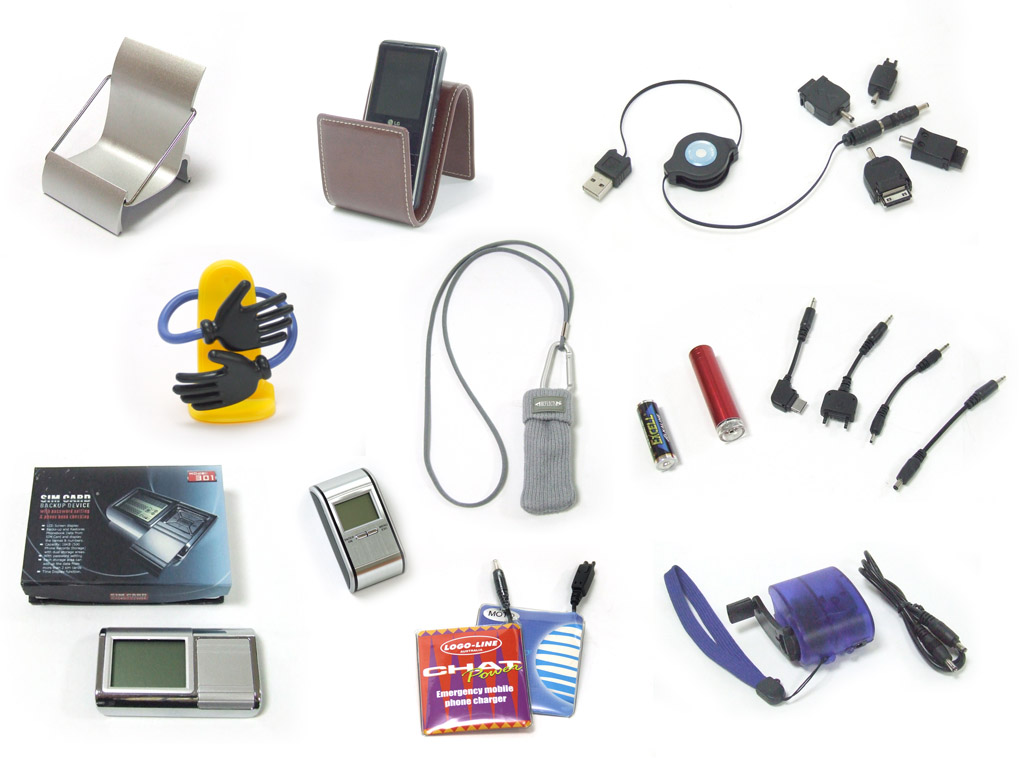 Gradually a buzz built around the new venture and the site was getting so much traffic that Omidyar had to upgrade his ISP.
In order to cover the costs he began charging people to sell on the site. While this wasn't well received, interest still grew and by the end of 1996 the company had a President (Jeffrey Skoll), a licensing deal to auction plane tickets, and upwards of 2 million listings.
AuctionWeb was rebranded as Ebay in 1997 and got its first round of funding from Benchmark Capital, to the tune of $6.7 million. By 1998 they had generated revenue of $4.7 million. That year the company went public at the height of the dot com boom and Omidyar became one of the first internet billionaires.
In the years that followed Ebay widened its categories, opened up in new regions, and acquired many smaller online retail companies to feed back in to the brand.
Although they don't offer auction listings, Ebay's closest competitors are Amazon and Etsy, which offer their own unique take on the online marketplace model.
At least some of Ebay's success has been attributed to their acquisition and use of the Paypal online payment system, that has allowed people from all over the world to easily send and receive money over the internet. Ebay bought majority shares in Paypal by 2002. In 2014 it was restructured as a separate publicly traded company to keep shareholders happy, though it is still an integral part of the Ebay platform. If you're looking for a Paypal redemption code, we also list these here at Coupofy.
Today Ebay is headquartered in San Jose, California, United States, and is available across all major mobile devices. Buying is free other than the cost of the products, and sellers are charged a small fee to list products.
Ebay also own Half.com, which focuses more on corporate sellers that have access to brand new items with UPCs, ISBNs or another kind of SKU. Like Amazon all of these listings are fixed priced rather than auction.
What You Can Buy At Ebay
Because Ebay functions as an open marketplace virtually every legal product is bought and sold throughout many categories. These include both brand new, second hand, refurbished, and even broke items. It is the responsibility of the seller to accurately describe the product and its condition, if they fail to do this the buyer can easily seek a refund through Ebays dispute system and can leave negative feedback as a warning to other buyers that the seller cannot be trusted. Too many negative experiences can lead to a seller getting banned. Likewise sellers can rate buyers.
Product categories include Consoles & Video Games, Antiques, Collectibles, Memorabilia, Art, Crafts, Toys & Hobbies, Travel, Health & Beauty, Baby, Books, DVDs & Blu-ray, Consumer Electronics, Computing, Cameras & Photo, Phones & Accessories, Business & Industrial, Clothing & Shoes, Fashion Accessories, Paper & Coin Money, Teddies & Dolls, Cars & Vehicles, Home & Garden, Watches & Jewelry, CDs & Music, Pet Supplies, Tickets & Experiences, Stamps, Sports, Services, Real Estate, Adults Only, and many other categories and sub categories.
Ebay codes are available for products in many of these categories so be sure to check Coupofy regularly for up to date offers, such as the popular grocery coupons. We only list coupons that work at Coupofy.
The auction site is very easy to use allowing users to browse via the above categories, or use the search bar if they know what they're looking for. You can also easily refine search based on the category, price range, item condition, item location, whether it's a fixed price or auction, when the listing is ending, and other parameters. You can also check a seller's rating to determine whether it's a risk or not to buy from them.
The eBay Classifieds section is separate from the main eBay concept. Here you don't buy or bid products through the site, rather you can place or respond to user classified ads, like at the back of the newspaper. Any business done through this section are the responsibility of the two parties involved. Because of this there is no direct option to use coupons, but you might find the odd seller or service provider that accepts a Paypal discount or offers some other deal.
How Ebay Bidding Works
Bidding on an auction item on eBay is simple. Just enter the amount you are willing to spend on the item (which obviously has to be higher than the current bid) and you will become the current highest bidder. Because your bid is the highest amount you are willing to spend, eBay will automatically bid until you limit is reached. If nobody else bids you will win the item at the lowest possible price.
For example if the current highest bid was $100, you bid $150 and nobody else places a bid. You will win the item at $102.50 (at this price range $2.50 is the big increment).
In the same scenario if somebody else big $110, they would be automatically outbid by you, and you'd win the item at $112.50.
If somebody bid higher than $150 you will be notified via email, and it's up to you whether to place another bid.
The required bid increment changes depending on the value of the item.
At $0.01 - $0.99, the increment is $0.05
$1.00 - $4.99 = $0.25
$5.00 - $24.99 = $0.50
$25.00 - $99.99 = $1.00
$100.00 - $249.99 = $2.50
You may be able to get a discount of the total price using a coupon, such as 10% off.
A popular tip to increase your odds of being the winning bidder is to place your bid in the last few seconds of the auction. This is called sniping. It makes people think nobody else is bidding. It is still wise to bid the absolute highest amount you are willing to spend however, because multiple people may attempt to snipe at the same time.
Selling On Ebay
Anyone with a registered eBay account and verified Paypal account can begin selling on eBay right away. Just click the selling link at the top of the page to get started. You will then be guided through the listing process, where you will choose an appropriate category, create a title, fill in the product details, and upload images. You will also need to choose whether you want to create a Buy It Now or Auction based listing, and the price/starting bid for this. You will also have the select/enter the shipping method you will use and how much you will charge for this.
Everything you sell on eBay will incur some kind of fee, so you should factor this in to the selling price. If you sell a lot of items per month you will have to pay an insertion fee of $0.30, and all items that sell incur a final value fee of at least 10% of the final sale price (including shipping).
The money you receive will also be subject to Paypal's standard fees as well.
Payment Methods
Ebay's primary payment method is Paypal which allows you to use any valid credit or debit card in your country without even signing up for an account. You can enter any Paypal coupon here.
If you do have an account you can also use your Paypal balance, and in some cases Paypal Credit/ Pay After Delivery, which allows you to buy now and pay later. Some Ebay listings may also support direct card payment (i.e. not through Paypal), ProPay, Skrill, Paymate, and Payment Upon Pickup for large items that aren't being home delivered.
You should check your local Ebay site for other authorized payment methods.
Prior to payment you can enter an Ebay online coupon, such as the popular 10% off to make savings.
Shipping
Shipping from Ebay is determined by the seller rather than one global shipping policy. Thus whenever you buy something you should check the available options and their estimated delivery time. Sellers are also free to set their own price for the shipping methods, though you can factor this in to a price range search so it doesn't go over your budget.
If you receive your order significantly later than estimated, or the seller used a different shipping method than you selected, you are within your right to complain and leave negative feedback.
Returns
Like shipping Ebay sellers are free to create their own return policy. By default they are not obliged to accept returns on unwanted items, but if you receive an item that is damage or defective, is the completely wrong item, or it's significantly different than described, Ebay will usually side with you in a dispute and refund the full amount plus shipping.
We're pleased to tell you, we have the best eBay redemptions codes. Don't trust us? Check out our competitors to see for yourself!
How to use get best deals
How to save using eBay deals?
Step 1: For best deals, browse through coupofy.com eBay deals and choose the relevant deal from huge list of deals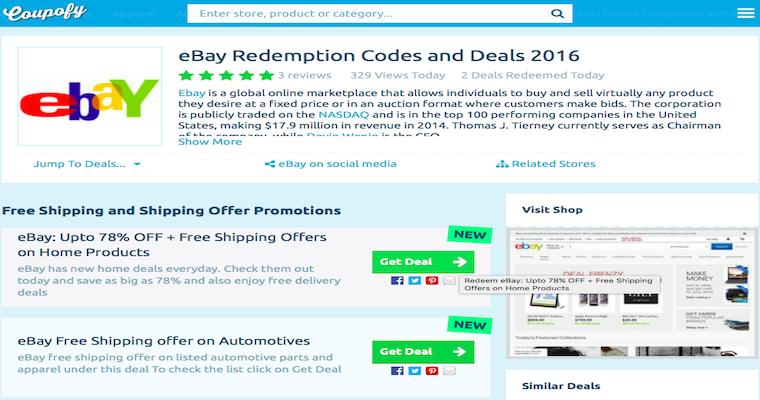 ---
Step 2: Click on Get Deal to see the real existing deals on eBay website. Make sure an account on eBay.com is created already. Check our offers on new signup bonus if you are creating new account.Choose the product from list of products.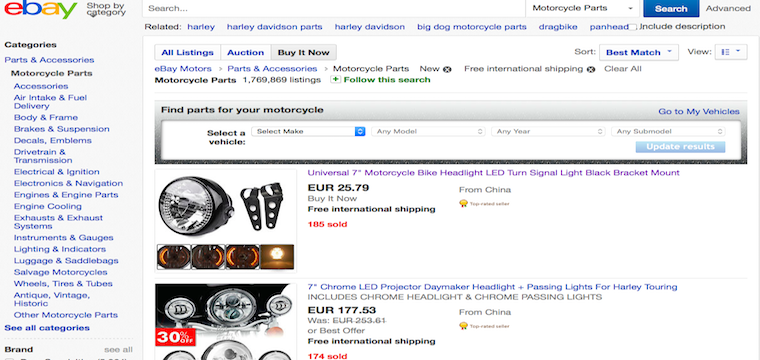 ---
Step 3: In this particular example, free shipping is the deal which is activated. More deals that can be combined with the present deal can be seen on eligible offers link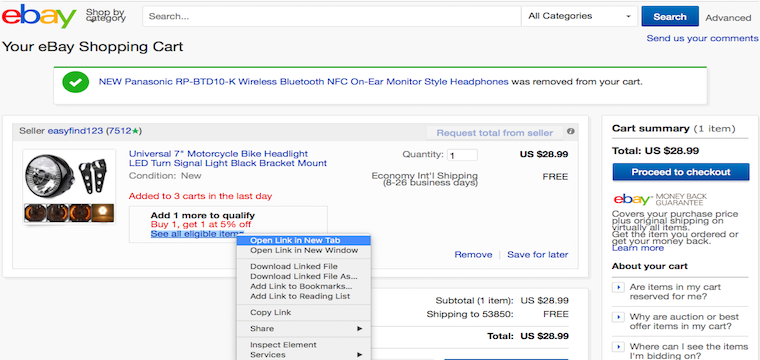 ---
Step 4: Checkout using Paypal or Credit card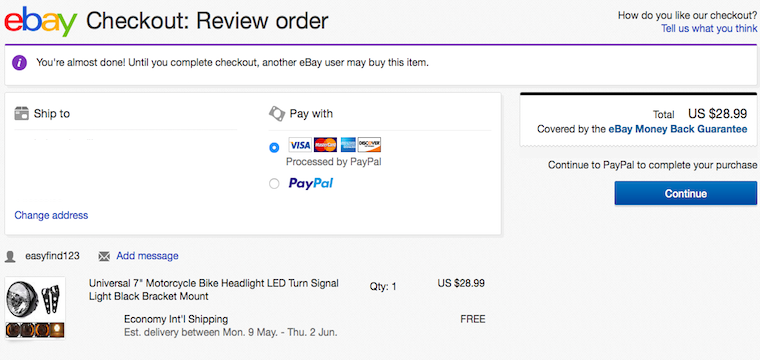 ---
Step 1: Check for eBay on Coupofy.com, click on get coupon and copy the code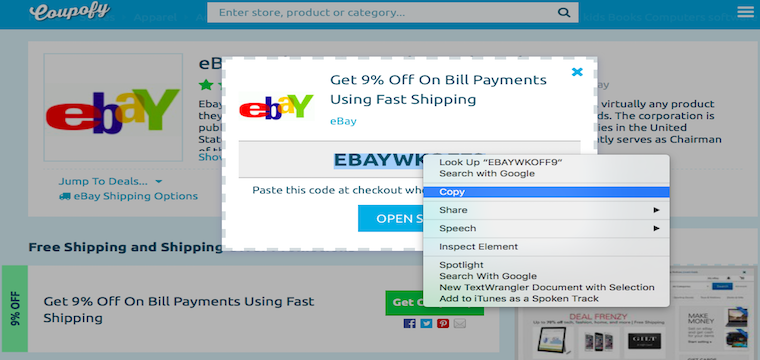 Step 2: Click on Open Site, which redirects to eBay page with list of products to which coupon code is applicable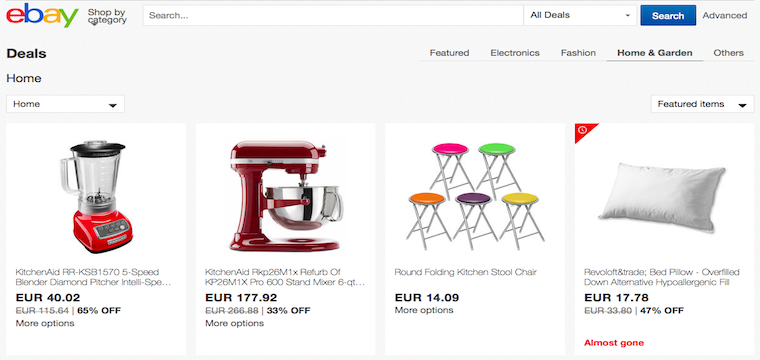 Step 3: Choose the product, click on it to see product customization page where color, size and style of the product can be customized.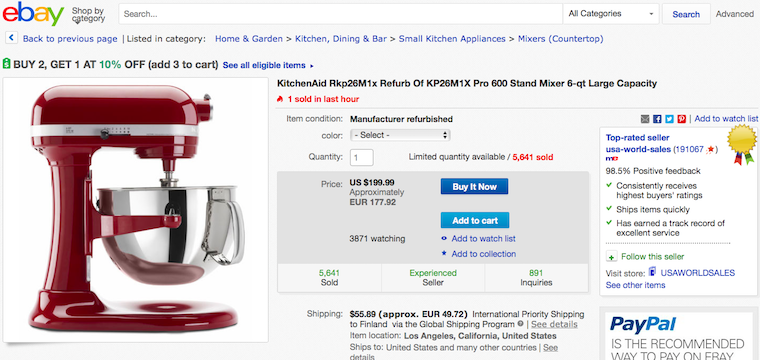 Step 4: Once the customization is done, click on Buy It Now which navigates to check out page. On check out page, there is a box where copied coupon code in step 2 has to be pasted. Paste it and click apply to activate coupon and do the saving. Payment can be done either with Paypal or credit cards.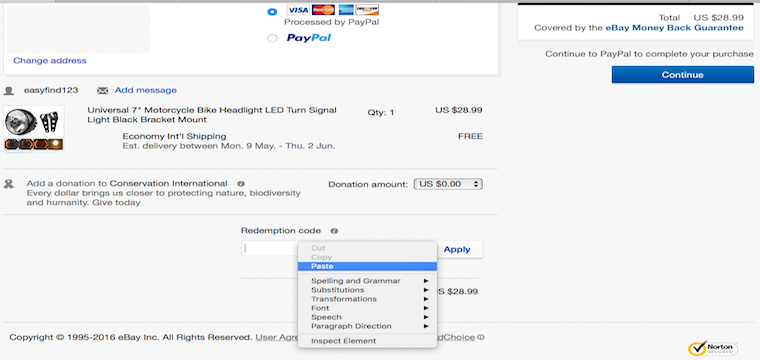 Ebay amazing deals
Shop amazing deals
Ebay has sections on their site that display the latest deals, money saving products . You can search the deals by category, from electric items and tech, homeware, fashion and featured items, or check out the latest sales and events page. On this page for example, if it is near a special day such as father's day or Easter, the page will be filled with products specially picked out for these occasions at a reduced rate.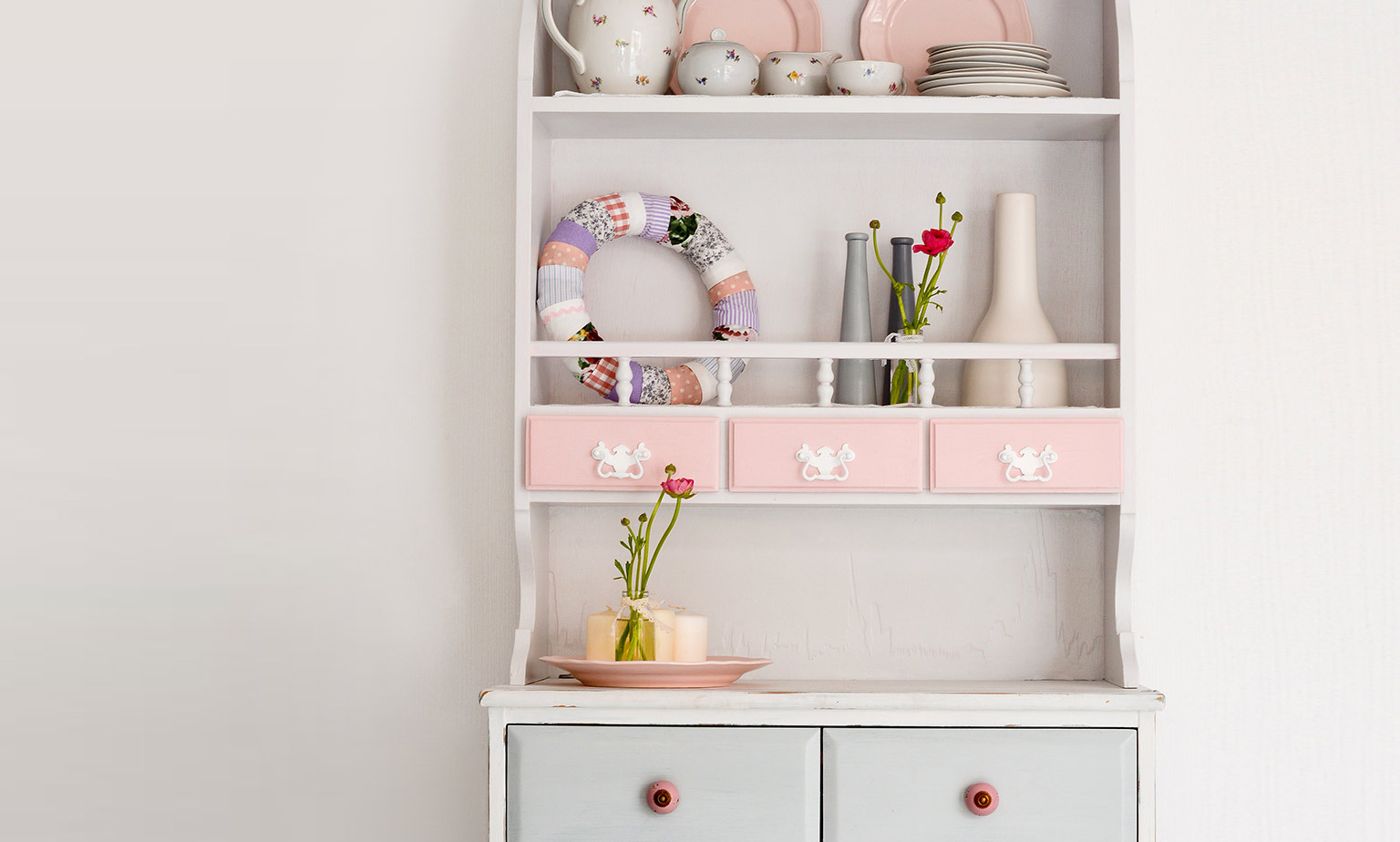 There is also a daily deals page, with items at a dramatically reduced rate that are only around for a limited time. You can even see the countdown clock that tells you how long you have left to redeem the offer. These deals are constantly updating, so if you can't find anything that you want one day, check back the next day because there could be a product that you have always wanted.
Building a reputation
When you have made an account with eBay, building up your reputation is very important to ensure that other buyers and sellers trust you. Every time you buy a product and make a payment on time, your reputation will go up. This is especially important when you want to sell an item, as people will use your rating to decide whether to trust you when they buy from you. When you are selling items, people that buy from you can rate your service on factors such as how quickly the delivery is, how helpful you are when answering questions and if the product is described. This will build up your reputation and make it more likely for other people to buy from you.
Follow or Like on Social media
Ebay are making good use of the social media hype and have accounts with Facebook, Twitter, and Google+. By following these accounts, you can stay up to date with the latest updates, deals, eBay discount codes, and more. It is one of the best ways to ensure that you never miss out on a way to save money with shopping with eBay.
Ebay money back guarantee
Ebay offer a money back guarantee service, meaning that if you have trouble getting your money back from the seller that you bought your products from, you can ask eBay to step in and help. Ebay also offer a vehicle purchase protection which will cover you up to the value of $50,000 for the non-delivery of a vehicle, undisclosed discounts and more. Plus, this service is offered to all eBay customers completely free of charge.
Download the app
Downloading the eBay app is a great way to sell, buy and search on the go. As long as you have an internet connection, you can buy whatever your heart desires wherever you are in the world. Plus downloading the app is completely free of charge, and you will not be charged unless you make a purchase. Another benefit of having the app is that you can change the app settings to be notified whenever you are outbid, someone has sent you a question, someone has bought one of your products and more. Currently, the app is available for iPhones, iPods, and Android devices, and you can even use coupons to buy products.
Getting in touch with eBay
If you ever have any problems with buying or selling a product on eBay, then the site has an online knowledge base that lists all the most common problems followed by a solution to these problems. If what you want to know is not in the list of most common problems, you can browse the knowledgebase by category or search tool to see if you can find the answer to your query, such as how to free shipping.
If you would rather speak to a member of the eBay team, then it is easy to get in touch. Firstly, you select the topic that you want to need the help with, and then you can choose the way you want to get in contact. Then a member of the customer service team will be happy to help.
Comments