Get notified when new promo codes arrive from DressLily
You will be alerted about deals at most once per week. You can always unsubscribe.
About DressLily
Since its inception, DressLily has risen to become one of the most popular destinations for fashion clothing. They also offer accessories as well. Their catalog currently features thousands of different products. They range from clothing items to accessories such as handbags, wigs, and fashion jewelry.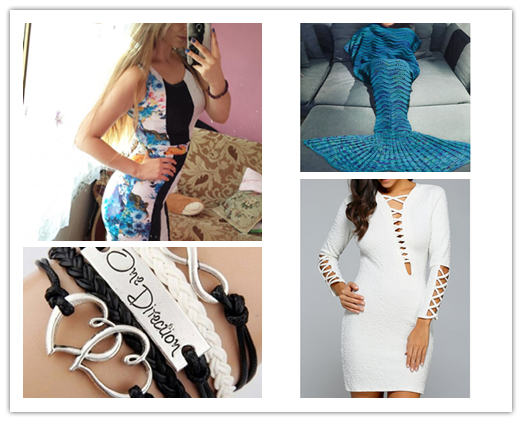 DressLily Website
The official website is located at dresslily.com. If you intend to be a regular customer, then you will really enjoy the perks offered by their D points system. You will earn a dollar for every 50 points that you accumulate.
You accumulate points for participating in a range of activities such as posting images and videos, registering on the website, shopping, and submitting reviews. After you've earned enough points, you can use them to achieve a discount on your orders.
Right now, all of the merchandise on the website is shipped out for free. This applies to orders anywhere in the world.
DressLily also operates an affiliate program. They pay a certain commission on each sale that's referred by one of its affiliates. They provide all of the tools that affiliate need to succeed.
The VIP club is a special program for droppshippers, and you can find information about it on the website too. This program offers special deals and privileges for high-value droppshippers. They are also available on social media sites like Facebook, Twitter, Pinterest, and Tumblr.
DressLily Sells
DressLily's catalog is broken down into categories for easy shopping. Based upon their name, it seems obvious that the company sells dresses. You can find different styles on the website such as bandage, chiffon, halter, and v-neck designs.
The women's category offers much, much more. Shoppers can find merchandise such as lingerie, tops, bottoms, and even dance costumes. There is also a wide selection of handbags, satchels, and tote bags under the bags category.
The shoes category is also very popular. A wide variety of shoe styles are available for sale including pumps, wedges, boots, slippers, platforms, sandals, and flats. In the jewelry section, you will find necklaces, rings, earrings, pendants, anklets, and bracelets. There are watches for men, women, and also couples.
There is surprisingly a men's section on the DressLily website. In this section, male shoppers can find shirts, hoodies, cardigans, jackets, t-shirts, and shorts. There are also accessories available such as scarves, hats, belts, ear muffs, and gloves.
Make Savings At DressLily With Coupofy Coupons
Thanks to Coupofy Coupons, shoppers can save money when shopping with DressLily. Coupofy maintains a webpage that contains a special list of deals and coupons that shoppers can use to save money. Each deal has a link that you can click on to enjoy savings at dresslily.com.
Payment Methods
If you want to shop on the website, then you will need a major credit or debit card. Paypal account holders can also use their accounts to make a payment, which is especially useful if you're trying to safeguard your payment privacy. If you have a Dresslily gift card, that form of payment is accepted also.
Return Policy
Returning an item is fairly easy, but you'll need to be quick about it. There is a 7-day return policy. You will need to contact the customer service department before sending anything back to ensure that they'll provide you with a return authorization. Certain apparel such as women's intimates and swimwear items aren't eligible to be sent back.
If you've been looking for stunning fashion styles at a low and affordable price, you needn't look any further than DressLily. Primed with some of the most popular styles available on the market, DressLily provides you with access to some of the hottest trends in the fashion industry today. Using a DressLily coupon, you can ensure that you keep up to date with the latest styles without hurting your budget at all.
When you shop at DressLily, you have the assurance of knowing that there is something suitable for everyone, regardless of what your style may be. So whether you're going out for the night or you're looking for something more business casual for work, you're certain to find something you'll enjoy. DressLily provides merchandise for men and women, so it's easy to find a new outfit for you and that special someone in your life.
Not interested in fashion? DressLily also offers a lot of unique accessories and gift options at incredible prices. Regardless of if you are passionate about makeup and looking for a charming makeup brush set or even looking to decorate your home with some colourful lights, DressLily provides a wide variety of non-fashion merchandise to meet your needs.
Have you been searching for a DressLily promo code or DressLily deals? Coupofy has all of the information you need and then some! If you've been aiming to get the most value for your money when shopping at this popular online vendor, you'll certainly appreciate Coupofy's review on what you can expect from your upcoming experience.
Great Ways to Save at DressLily
DressLily provides many unique ways for you to save during your shopping experience. Of course, you can use a DressLily coupon any time you shop to help you accumulate savings quicker, but there are many other options that are worth consideration. For example, you can get $15 in savings if you invite your friends to shop at DressLily. To get this savings, you have to get 5 friends to shop on the site. In exchange, you will receive a $15 DressLily promo code and your friends will also receive a DressLily promo code worth $10 off of their first purchase.
Another way that you can save money when shopping at this store is to sign up for the email newsletter. In doing so, you'll receive any coupon DressLily releases via email. The newsletter will also provide you with information about upcoming sales, promotions, and new items that have recently become available on the site. If you have been searching for the most recent DressLily promo code 2020, this is generally the best way to find it since you will be provided with regular updates. You can also choose to follow DressLily on social media platforms such as Facebook, Twitter, Tumblr, Pinterest, Instagram and Bloggr to increase your chances of getting a DressLily discount code.
DressLily VIP Club
Aside from traditional DressLily deals and coupons, another way that you can save money when shopping at DressLily is to join the VIP club. This club is completely free and provides a range of services and privileges that are exclusive to frequent buyers. When you have completed 3 separate purchases within the same period or you have had an average transaction value of over $5000 in a month, DressLily's system will update you to VIP status for one year. Your status is evaluated after the year has passed. If you have an average transaction of over $2000 in a month, then the system will set you to VIP status for a five month period instead.
When you have VIP membership, you will be provided with reduced drop shipping prices on all items on DressLily's website. If you use your DressLily coupon during checkout to redeem a discount, you can only receive the discounted price of the normal item instead of the special drop shipping price provided to VIP members. VIP members are also provided with a direct phone number to customer service and priority status for shipping, tracking, email service, and any other concerns.
Shipping Policy
DressLily ships thousands of orders on a daily basis. The majority of these items ship in around 24 hours after you have placed your order, but some items may take longer to ship if you have ordered something popular that may not be in stock at the time. In these instances, it can take around 5 to 10 business days to process your order. Please note that once your items have been packed and prepared for shipping, it is not possible to change or cancel your order.
DressLily currently partners with some of the top international shipping companies including UPS, DHL, FedEx, IB and EMS. Three levels of shipping are available including expedited shipping ranging at 3 to 7 business days, standard shipping ranging at 6 to 8 business days, and flat rate shipping ranging at 7 to 30 business days. As one might expect, the typical shipping rates for these options vary depending upon your selection. If you are interested in flat rate shipping, DressLily will provide you with this service for free.
If you were to upgrade to the next level of shipping, which would be standard shipping, you would need to pay a fee to have your items delivered to your location. However, if you are interested in waiving your shipping fees, you can usually do so by using a DressLily free shipping code when it is available. This is a great way to save a little extra money on your purchase and ensure that you receive your purchase in a shorter period of time.
Comments