Get notified when new promo codes arrive from Sesame Place
You will be alerted about deals at most once per week. You can always unsubscribe.
About Sesame Place
Sesame Place first opened in 1980 and is located in Langhorne, Pennsylvania. Throughout the years, it has been a prime destination for education, entertainment, and unforgettable experiences for adults and children alike. Sesame Place is owned by SeaWorld Entertainment and licensed by the Sesame Workshop. The theme park features a great variety of shows, rides, and water attractions that are best suited for young children. The park is generally open from May to December and covers an expansive area of 14 acres.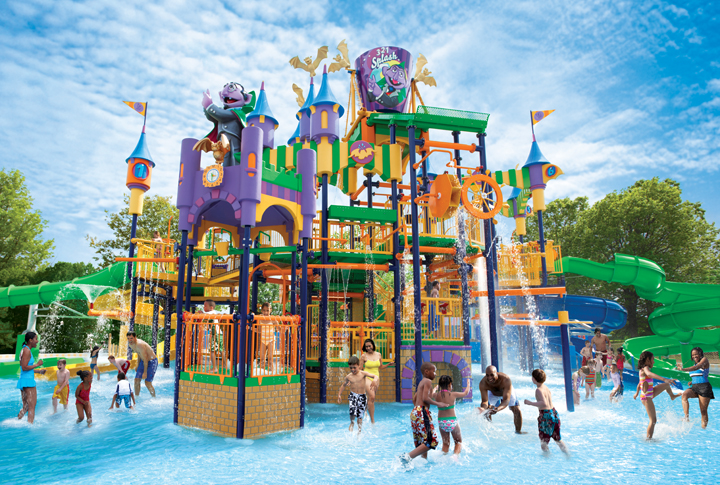 Have you been trying to figure out how to find the best Sesame Place deals for your upcoming trip? Are you looking for a Sesame Place discount code? If so, Coupofy has all of the details that you will need to have the best and most affordable experience possible. Our review of Sesame Place will provide you with information about what you can expect and how to save on your purchases while you're at the park, making it a great resource for anyone who's considering taking a trip with their family.
What Kind of Rides Are at Sesame Place?
As mentioned before, Sesame Place features rides that are mostly suitable for young children. The attractions are all split into different categories and vary between dry rides and wet rides. The dry rides are open during appropriate times of the year such as Springtime in the Park, Summer Season, The Count's Halloween Spooktacular, and A Very Furry Christmas. Water rides are only open during the summer season. This prevents children from getting sick from catching a chill and provides them with a comfortable ride during warmer weather.
Some of the rides available at Sesame Place include Grover's Vapor Trail, Not-So-Spooky-Hayride, Sky Splash, Teeny Tiny Tidal Wave, Slimey's Chutes, Silly Sand Slides, Mix'n'Match Twiddle Tracks, Rubber Duckie Dance Party, Sesame Place Furry Express, Sunny Day Carousel and Sesame Neighborhood just to name a few. All together, there are 16 dry rides and 9 water rides that can be enjoyed during various times of the year.
What Else is Available at Sesame Place?
Although Sesame Place has many rides, there are many other areas to explore while you are there. Two other popular areas at the park include the various restaurants that are available and numerous shops. Opportunities for children to dine with their favorite Sesame characters vary depending on the time of year and the holiday that is present during that time. However, this can usually be arranged regardless of which season you choose to have your visit. Some of the popular restaurants in the park include Cookie's Cafe, Elmo's Eatery, Grover's Eats on the Streets, and Snuffy's Street Treats, just to name a few.
If you would rather go shopping, there are also many options to choose form. Stores include Finders Keepers, Mr. Hooper's Emporium, Oscar's Stocking Stuffers, and Abby's Winter Gear. There are also a few specialty merchandise options that should not be overlooked, which include mail order merchandise, photo key, and a variety of shopping offers that are exclusive to those who are going to Sesame Place.
How to Find Sesame Place Coupons
Once you've decided that you want to go to Sesame Place with your family, you'll need to start looking for coupons. These coupons will help you to save money on the cost of your Sesame Place admission and will make the entire experience more affordable. You can find your Sesame Place coupons in a variety of different scenarios, so it's important to stay on the lookout throughout the year if you want to get a good deal.
If you're looking for a discount on Sesame Place tickets Groupon is a great place to start looking. While these types of discounts are not always available on Groupon, when they are released, the savings is often incredible. You can get multiple tickets for the price of one sometimes and it's even possible to save money on a package for the entire family. Check on a regular basis to make sure that you don't miss out on this Sesame Place Groupon 2020 deal when it's posted.
Another option you might want to consider signing up for is Sesame Place's email newsletter. This mailing list is a good way to stay updated with information about park news, upcoming events, and special offers. Although discounts and coupons are not provided all of the time, you will know when a sale or discount becomes available during certain times of the year. This can be helpful if you want to take your family to Sesame Place during a certain season or for a holiday theme.
Don't underestimate the power of following Sesame Place on social media for more information. Sesame Place has accounts on Facebook, Twitter, YouTube, Instagram, and Pinterest. Sometimes this can be a good resource for finding a Sesame Place promo code because promotions and discounts may be posted that are just for social media followers. If so, this can be a great way to get a reasonable discount on the cost of your tickets later on.
While it might seem unlikely, sometimes you can also get discounts for Sesame Place at fast food restaurants that have partnerships with the park. For example, if you're looking for Sesame Place coupons McDonalds often has promotions that will provide you with a cheaper ticket for your child. If McDonalds doesn't work, you may also want to chck out some of the Sesame Place coupons Burger King offers throughout the year as well. Although you can't predict when these coupons are going to become available, if you tend to go to these restaurants on a regular basis to dine, you'll eventually find out the information naturally.
How to Redeem Sesame Place Coupons
When you have finally tracked down all of the coupons that you need for your upcoming trip to Sesame Place, it's time to finally redeem them. There are two instances where you will be redeeming your Sesame Place coupons when you make your purchase. If you are purchasing your tickets directly at the park, you will be redeeming your coupons during the transaction. In this case, you will need to bring your Sesame Place printable coupons that you have received via email or have collected from the other methods listed above. Hand them to the cashier at the park and they will handle the rest of the transaction with the discount.
If you are purchasing your tickets ahead of time online, then the redemption process for your Sesame Place coupons is slightly different. Select the amount of tickets that you want to purchase or the specific package that you want to buy for the park and then put that in your shopping cart. When you are ready, you can begin to checkout. During checkout, you will be prompted for various forms of information such as your payment methods and how you will pick up the tickets. You will also be asked to provide your Sesame Place promo code if you have one.
Type the promo code into the designated area and then apply it. You should see that a discount is included in your final total. If the price of your tickets hasn't been reduced at all, you should check to make sure that you have not input the promo code incorrectly. If the code is correct but still doesn't work, you may need to replace it with another Sesame Place promo code in order to get a discount on your purchase.
What to Do If Your Sesame Place Coupons Don't Work
When you're redeeming your coupons online, there's always the possibility that they might not work. This typically happens when you are using a coupon that is expired. For example, if you've tried to redeem a coupon that you found online that was posted years ago, it's not going to work in comparison to using a more recent option such as Sesame Place promo code 2020. For the best results, you should just use the latest coupons Sesame Place has provided to you via email.
Read the terms and conditions of the coupons when you receive them. Does the coupon require anything specific in order to work correctly? Some coupons only work when you purchase a certain amount of tickets. Other coupons work if you purchase tickets in a package for the park. By understanding how the coupon is intended to be used, you'll have more insight into why it is or is not working when you try to redeem it.
If you believe that you have a coupon that has not expired but it simply isn't working correctly, then you might want to contact customer support. They may be able to find out why your coupon didn't work correctly and may even provide you with a replacement so that you can still enjoy the park with a discount.
Consider Buying a Season Pass
Another way that you can save some money on your upcoming trip to Sesame Place is to get a season pass. It is important to understand that this option may not be the best for everyone, especially if you don't live close to where the park is located. If you live in the general area of the park and can get there in a few hours or less, then this would be a more cost effective option to consider. Having a season pass can provide you with benefits, admission offers, in-park offers, and get you in to special events.
With a season pass, you can receive access to unlimited visits to the park for free, member events, reservations for special events, free parking, discounts on dining, early entry into the park, and much more. Season passes are not very expensive to begin with, but if you want to make them even more budget friendly, Sesame Place offers payment plans. These payment plans allow you to make gradual payments on your season pass throughout the year while you continue to enjoy it with your friends and family.
Another great aspect of having the season pass is that it will provide you with discounted admission to SeaWorld and the Busch Garden parks. If you have a Big Bird or Transferable Season Pass, you can save 50% on the admission costs to go to these parks. This is great if you live in an area that is central to SeaWorld or Busch Gardens so that you can make the most of your pass and enjoy all of the parks in the area. You can also receive 50% off on guest admission.
As if that wasn't enough of a reason to get a season pass, the 'build your own vacation' feature was specifically designed for members who have passes. This puts you in total control of what your experience at Sesame Place will be like and allows you to plan everything associated with your trip. It makes it much easier to plan a vacation around your experience.
It's Time to Start Planning for Sesame Place
Now that you know all of the details about what to expect at Sesame Place, isn't it time to start planning your trip? Sesame Place is designed to be a park that the entire family can enjoy, whether you're a young child or even a grandparent. There's something suitable for everyone at Sesame Place and the fun never truly ends when you are there.
Although going to theme parks used to be expensive in the past, they're becoming all the more affordable as time progresses. With Sesame Place coupons, taking your entire family to enjoy this amazing park doesn't have to be costly at all. As long as you plan your trip carefully and take advantage of the offers as they become available, you'll find that your next trip to Sesame Place can definitely fit within your budget.
As an alternative to Sesame Place, you can also try ShindigZ for party supplies, birthdays, favors, decorations, celebrations, personalized and clearance.
Comments