Get notified when new promo codes arrive from Glass with a Twist
You will be alerted about deals at most once per week. You can always unsubscribe.
Popular Glass with a Twist Coupon Codes & Deals
| Discount | Description | Expires |
| --- | --- | --- |
| | Dirty Martini Classic Glasses starting from $10.95 | Nov 4, 2023 |
| | Personal Bar Shot Glasses starting at $9.95 | Nov 4, 2023 |
About Glass with a Twist
In business since 2007, Glass With A Twist is a small company that has quickly made an impression within the industry and in the greater public. The company also provides service under the name The Tipsy Grape. All of the items are created in-house by experienced professionals. Currently based in Reno, Nevada, Glass With A Twist uses some of the best methods in the industry to achieve beautiful results including sandblasting and multi-colored screen printing. Customers can order as many or as few custom glasses as they want. When the product is finished, you have restaurant quality glassware that will last you for years to come.
Are you searching for a Glass With A Twist coupon? Trying to figure out whether Glass With A Twist can offer you the best deal? Look no further than Coupofy. Set with an arsenal of information about discounts, deals, and what to expect during your shopping experience, Coupofy will provide you with some of the most detailed information available about Glass With A Twist.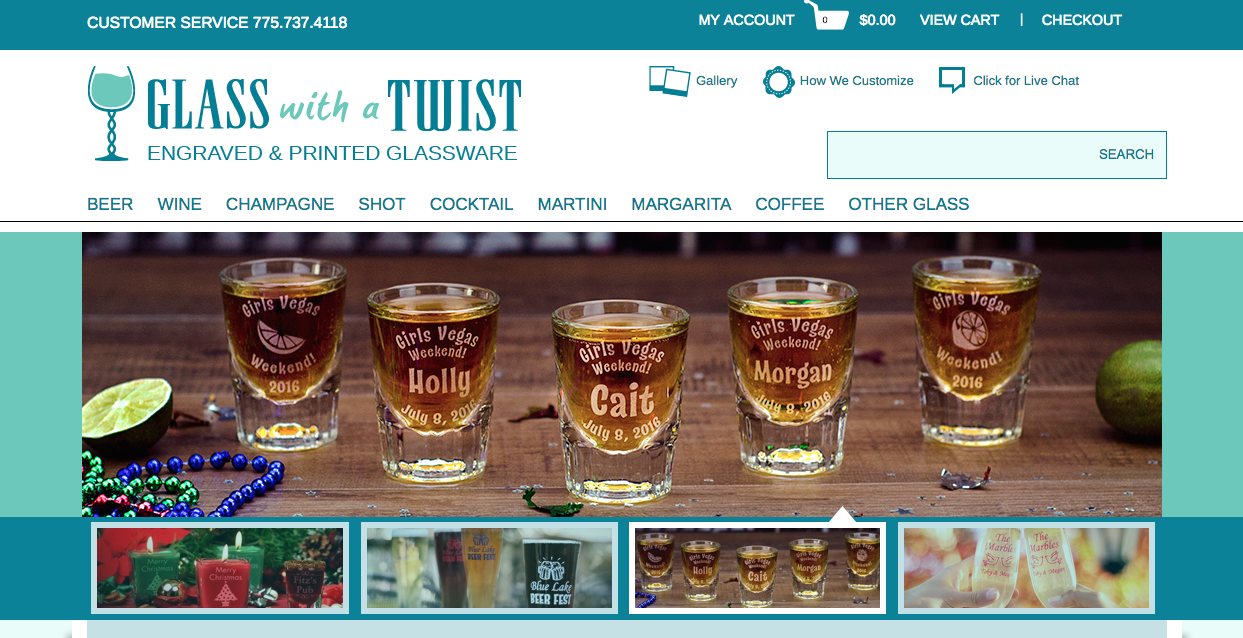 Why Shop at Glass With A Twist?
Compared to other glass engraving services, you may wonder why Glass With A Twist is the main contender that you should be checking out. Glass With A Twist aims to provide you with the most high quality level of service possible, whether you are ordering one glass or even hundreds. The company features dedicated customer service, in addition to shipping and production specialists to ensure that all of your needs are met.
If you're tired of feeling like you're just another number or another sale when you make a purchase, you'll be pleased to know that you won't experience that feeling at all when shopping at Glass With A Twist. The friendly and knowledgeable staff endeavor to provide you with an experience just as personalized as your purchase. Need to make a special order? The Glass With A Twist team encourages you to reach out with your ideas and questions. The team will work with you to ensure that you get results above and beyond your expectations every time.
When you shop at Glass With A Twist, there's no doubt that you'll find the perfect present for someone you love. The service team is capable of producing a wide range of designs, making the sky the limit when it comes to creating something that you know your loved ones will cherish for the rest of their lives. Combine your purchase with a Glass With A Twist discount code and you've got an amazing gift for a remarkably low price.
What Kind of Glassware Can You Personalize at Glass With A Twist?
Glass With A Twist offers engraved glassware. Glassware is separated into appropriate categories such as beer, wine, champagne, shot, cocktail, martini, margarita, coffee, and other types of glass. This means that you can order engraved beer mugs, custom beer glasses or even custom pint glasses. Glass With A Twist can personalize any type of glassware for your home or restaurant, making it a great choice in comparison to other services that can only personalize certain types of glasses or limit you in the amount that you can order.
Shipping Policies
Most small orders made with Glass With A Twist are shipped out within 3 days of the order placement on the site. If you have required screen printed products or bulk products for engraving, sometimes the shipping takes a little longer depending upon the amount of glassware you have ordered and the complexity of the design. The transit time associated with your shipment will vary depending on your location and the type of shipping that you select.
Glass With A Twist currently offers USPS First Class, USPS Priority Air, FedEx Ground, FedEx 2 Day Air and FedEx Standard Overnight shipping. All orders ship from the company's location in Reno, Nevada. The cost of shipping will vary depending on the option that you choose. If your order weights a pound or less, you can generally get USPS First Class for $5.95. If you are interested in Priority Air, it tends to range between $7.95 and $11.95 depending on the weight of your package and where it will be delivered to. FedEx rates vary greatly depending upon the weight of your order and your shipping location. If you are interested in having your basic shipping fees waived, you may want to consider using a Glass With A Twist free shipping code during your checkout.
What Do Previous Customers Think of Glass With a Twist?
If you're still not convinced that Glass With A Twist is the best choice for your glassware engraving and screen printing needs, you may want to consider some of the testimonials shared by previous customers. Since Glass With A Twist has been in service since 2007, there are many reviews available for you to read and take into consideration. For the most part, Glass With A Twist reviews are positive and most customers suggest that if they have encountered any difficulties with their orders, customer service quickly handled the situation and ensured that they were fully satisfied with the final product.
Understandably, engraving glassware can be a fairly expensive process. For this reason, not many people choose to personalize their glassware because it can cost so much money. If you're dealing with a budget, it can be challenging to fit personalized glassware with more detailed designs into finances. However, most reviews of Glass With A Twist suggest that customers are very pleased with the discounts that they received during their order. Using a Glass With A Twist discount code lowers the price greatly and makes the product all the more affordable.
What's The Best Way to Save at Glass With a Twist?
There are a few ways that you can save on your purchase when you shop at Glass With A Twist. For example, some people have saved on their purchase at the site because they discovered a Glass With A Twist groupon online which helped them save on their upcoming purchase. However, the groupon isn't always available, so it's important to know about other sources you can try when looking for your Glass With A Twist discount code.
Generally speaking, most of your savings at Glass With A Twist are going to be achieved with the use of a discount code. Sometimes, you can find a few Glass With A Twist coupon options available on the website. It is more common to receive coupons by signing up for the company's email notifications. Once you have done that, Glass With A Twist will email you whenever there's there are new offers, specials, or sales.
Another way you can get more coupons is by following Glass With A Twist on social media. The company currently has Facebook, Twitter and Pinterest, so if you are willing to follow on these sites, more than likely you will find some exclusive deals posted online. Alternatively, you can also save money depending on how many glasses you choose to purchase from Glass With A Twist. If you choose to purchase your order in bulk, you can receive a discount to make the overall cost more affordable. Pair this bulk discount with the discount that you are already receiving with your Glass With A Twist coupon and you have access to a fairly significant deal.
How Do You Redeem A Glass With a Twist Discount Code?
Once you've found your coupon code, you may be wondering how to use it if you don't often redeem coupons online. The process is actually very simple. When you have put in all of the specifications for your order and added it into your shopping cart on the site, you are going to navigate to the cart. You will then proceed to checkout your items. When you are checking out, you will be asked for a variety of details. At some point, you will also be asked for your Glass With A Twist discount code.
Paste or input the discount code into the correct area and then apply it. It should apply the discount to the overall total of your purchase. If that doesn't work, then put the code in again and try to apply it one more time. If you still receive an error or there are no results, then you probably need a different discount code. Input a different Glass With A Twist coupon code and hit apply. If successful, you will see the discount indicated in your final total.
Sometimes coupon codes don't work for a few reasons. First, coupons have their own terms and conditions that must be met in order to provide you with the discount. If you don't have the correct amount of items or the correct item in your cart, then the coupon code may not let you redeem it based upon those terms. Another reason is that coupons can expire if they haven't been used within the correct amount of time. If you use a more recent discount code Glass With A Twist will be able to provide you with the deal associated with that one instead.
Should You Choose Engraving Or Printing?
Whether you choose engraving or printing depends upon the type of effect that you want to achieve. If you want engraving, Glass With A Twist uses sandblasting to produce marks that will be deep enough to be visible while maintaining an even amount of detail. Engraving provides the most flexibility when personalizing glassware with a design.
Screen printing can also be used, which involves the use of multi-colored inks. Special cylindrical machines are used to handle the printing process, in addition to special inks to ensure ideal results and durability. Screen printing can still provide great results, it just offers a different effect compared to engraving. When you are ready to make your selection, you can provide your own design or have Glass With A Twist design something for you. There are no restrictions on art or character count and you can make any combination of art and text that you'd prefer.
If you are opting for engraving, you won't have to deal with any quantity minimums or additional fees for setup. It is possible to get discounts for higher quantities. However, if you are planning on making a printed order, there is a charge of $45 for setup and you must order a minimum of 24 glasses.
Start Personalizing Your Glassware Today Using Glass With a Twist
Having personalized glasses can truly add a unique finishing touch, whether you are presenting the glassware as a gift or using it for a special occasion. Working together with a service that will can use or create any design, you'll find that there are endless possibilities when you choose to personalize your glassware at Glass With A Twist. High quality materials and a dedication to detail ensures that you will truly be satisfied when you receive the final product.
Likewise, Glass With A Twist offers remarkable results for a truly reasonable and affordable price. There are numerous discounts that can be used, including discounts when you purchase your items in bulk. Paired with a Glass With A Twist discount code, you won't have to worry about overspending your budget. Regardless of if you are seeking to impress a loved one at home or the guests at your restaurant, you're certain to enjoy your purchase from Glass With A Twist.
Following are the alternatives of Glass With A Twist:
Comments