Get notified when new promo codes arrive from Dashlane
You will be alerted about deals at most once per week. You can always unsubscribe.
About Dashlane
How Dashlane works
The application uses AES-256 encryption to store and protect passwords. For users, they can only access their various accounts by using a Master password. The master password is neither recorded nor transmitted, and this escalates the security of the accounts minimising chances of hacking. Dashlane has been reviewed by The Newyork Times where it was described as one of the best.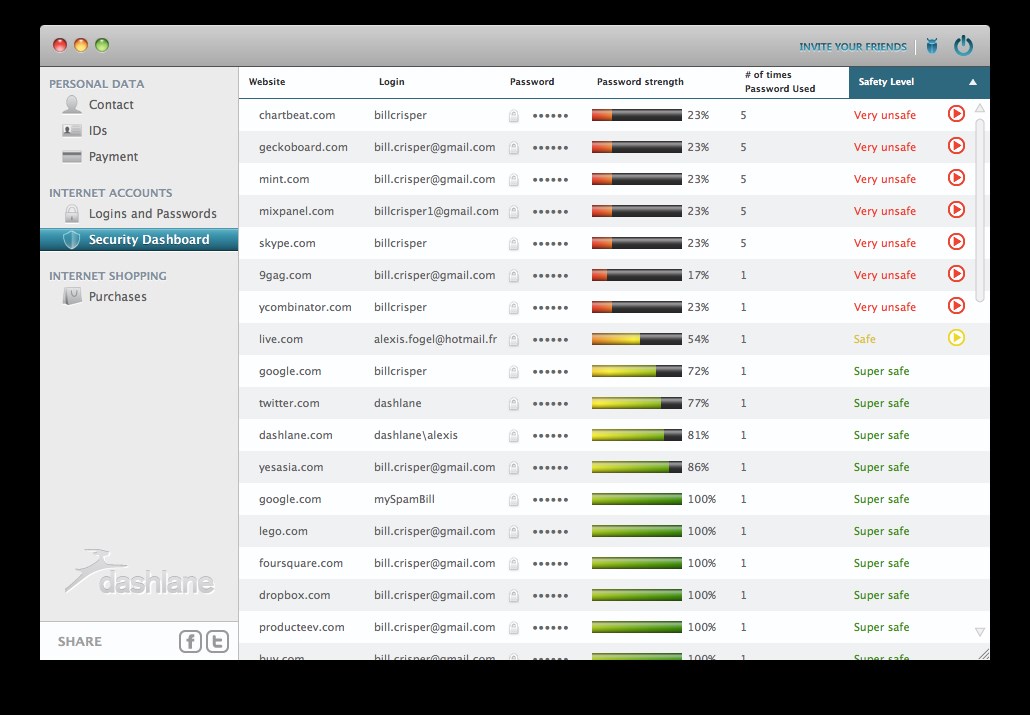 Dashlane Sells
As the world's best software for password management and digital wallets, Dashlane has the following features and products. All though some are free, others require a premium subscription which gets even cheaper with a Dashlane discount code.
The feature allows users to designate one of their trusted individuals as the immediate emergency contact for the purposes of releasing third party account information.
The free password manager allows users to keep track of all passwords in a single location and easily import and export passwords across different browsers into their password vault.
With a single click, users can automatically change their passwords via the app. With the password changer, users can control passwords used on third party mobile apps stored in password apps.
Users can create 'hard to hack' passwords using the password generator service built into the Dashlane app. The password generator creates complex passwords as compared to the ordinary ones most people use.
From emails, addresses, phone numbers, payment types, IDs to job titles that need smart auto filling. The function operates on both Smartphones and desktops. The auto fill heightens the security of users by ensuring that unencrypted data is not left lying on your browser cache.
The mobile digital wallet allow web users to securely store credit cards, debit cards, bank information, Paypal etc in a single location making it easy to select the method to apply at the Dashlane Digital wallet. With this wallet, one can access itemized receipts from all the transactions made. Better still, Dashlane informs its clients when the cards near expiration so as to get a new one on time to avoid inconveniences.
The feature ensures that stored data is backed up in the Dashlane cloud. Additionally, the sync function enables users to synchronize the data and make it accessible to authenticated devices.
Just like the sync function, a copy of the user's data is copied to the Dashlane servers for purposes of back up. However, the backed up data is not restorable when the app is uninstalled or instances where you forget the master password.
Coupofy Coupons Bring You Great Discounts for Dashlane.com
Why pay full price when you can get discounts or special offers? Coupofy Coupons does the leg work and collects all the latest Dashlane promo codes October 2020 for some of the most popular stores on the web.
So what are you waiting for? Browse our list and when you see a coupon you like, click on it to be taken directly to the store where you can apply the code during checkout.
Some of the famous offers and Dashlane coupons include;
Dashlane premium discount codes
Free Dashlane password manager
10% off one year premium subscription
Dashlane premium starting at $1.67 monthly coupon code
Paying for the Dashlane products
Dashlane accepts a range of payment methods. They include;
Visa
Master Card
American Express
Discover
PayPal
Shipping Options for your order
At this moment in time, Dashlane products are managed remotely. It means there is no item that needs to be shipped to another physical address. The only important information needed is your login details and other information Dashlane finds necessary to process your order. Once you have checked out the service and subscribed, you will be issued with an account which can then be used immediately.
And when the product doesn't impress you..
In the case you are not happy with your premium membership, you can apply for refund within 30 days from the date of purchase. Dashlane will refund your subscription amount through the same method of payment you initially used to make the purchase. In case your premium membership renewed even though you did not want it to, you shall be refunded the full amount, only if the claim is made within 30 days from the date of renewal. It is however worthy to note that, if you used a Dashlane coupon while subscribing for the premium membership, you will only be refunded an amount equal to what you were charged at that given time.
If you happen to have any additional questions, simply contact the customer support team which will get back to you as soon as possible and do everything that stands in their power to ensure that you are happy with your purchase.
Free vs premium
Dashlane gives its clients an opportunity to experience some of their products all free. Without a cent charged or a Dashlane Promocode, clients can access password manager, autofill, ironclad security, works on all platforms, emergency sharing, security breach alerts and password charger.
Dashlane premium is charged $39.99 per year. In addition to the features offered on the free plan, clients on the premium service get unlimited secure sharing for passwords, sync across all devices, secure account backup, U2F, web access to passwords and priority support through a direct mail. The best part is that, customers are offered 30 days money back guarantee. If you however want to experience the software before subscribing to the annual membership, Dashlane offers clients a 30 day trial period with all the premium features enabled. The trial period requires you to only fill in the payment details for purposes of the auto renew function- no Dashlane promocodes required.
Comments