Swimwear Evolution
Like other fashion trends, swimwear has evolved across many generations. However, something that remains evident is the lesser fabric as time goes by. For instance, the late 1880s and early 20th century were marked with full coverage of the body, in particular for women. This was due to the society restriction against women revealing too much of their body, lest men get a wrong impression. Today, the swimwear industry has received numerous changes, but some past trends have made a comeback.
Summer is now kicking off, and swimwear is currently a heated topic among men and women. As you shop around for your favorite costume, below is a collection of swim types that have been inspired past trends.
One Piece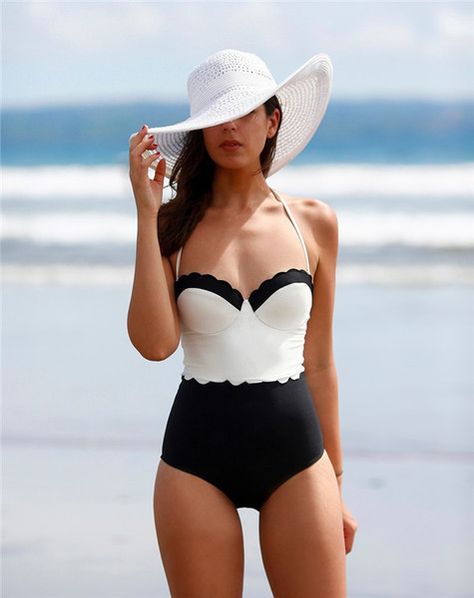 Source: Pinterest
Unknown to many, one-piece swimsuits can be dated back in the 1930's. This is after women started embracing their beauty aspect and strived to showcase their sexy bodies. However, this era's one piece swimsuit did not expose too much of their skin. Today, one piece swimsuits are a popular trend for all generations. According to some women, the one-piece swimwear feels more comfortable, supportive and has minimal skin baring.
One piece suits also come in handy for expectant mothers, men who have undergone mastectomy as well as those individuals who only want the sun penetrating their body but not some strange human eyes. Currently, there are a variety of styles for women to choose such as backless one-pieces as well as those with built-in skirts and bust support. There is no doubt one piece swimwear is a trend that won't fade away. Neiman Marcus stocks an extensive collection of sexy and trendy pieces from top brands such as La Bianca, Michael Kors, Carmen Marc Valvo among others. To sample, some of the available pieces check them on Neiman Marcus.
Bikini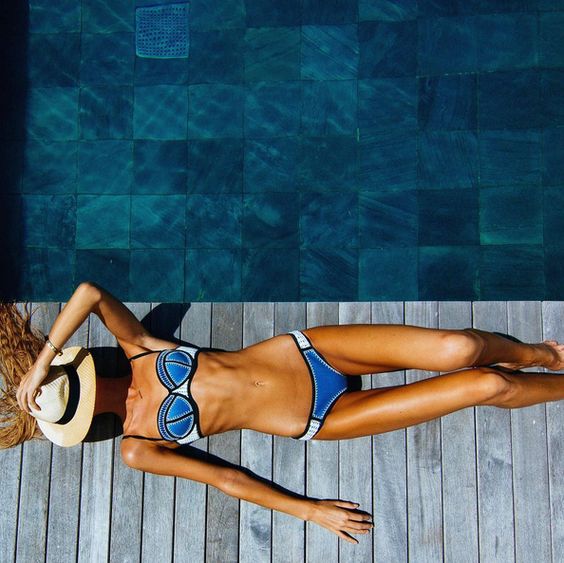 Source: Pinterest
In 1946, a French engineer by the name Louis Réard together with Jacques Helm, who was a fashion designer introduced the bikini swimwear in Paris. According to them, they aimed at providing women with trendy swimsuits that could reveal their beauty by exposing their skin. The braver women were quick to embrace the new style that made them feel confident about their bodies while at the beach. However, until 1960's the trend was not welcomed by some women who still preferred one piece swimsuits.
Today, the bikini trend is still a hot style by a high percentage. In most cases, the tops and bottoms of the bikini are in similar or different shapes and styles. The basic bikinis are triangular to cover the breasts and have adjoining strings that go around the neck or the back. The bottom is available in plenty of styles and women can choose from sexy thongs, tie sides, skirted bottoms, full bottoms, and others. If you love bikinis and would love to rock one this summer check some of the selected samples on Neiman Marcus
Tankini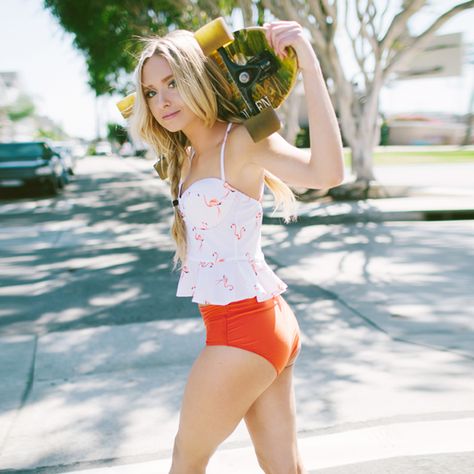 Source: Pinterest
Tankini resembles the one-piece swimwear, only that the former comes in two pieces. The tankini became a trend in the late 1990s after it was a designed by a US swimwear mogul, Anne Cole. The inspiration of this style was from the 1920's bathing suits that were worn in tanks and swimming pool. Tankini consists of a tank top that is sleeveless with a low neck and shoulder straps of different lengths. The bottom part can come in a variety of styles as the wearer prefers. The best thing with tankini is that either men or women can wear it.
Tankini has not lost its taste today. Most people love the suit because of its convenience when using the toilet; there is no need to remove the entire costume. This swimsuit is an excellent choice for women who don't like wearing bikinis, those with small busts, women who have had one or both of their breasts surgically removed as well as those with long torsos. You can get the Tankini in a variety of colors and styles such as an integrated push-up bra, or a spaghetti straps instead of tankini shaped straps. As you go about shopping for a tankini this summer, why not have a look at this collection on eBay
Swim Dresses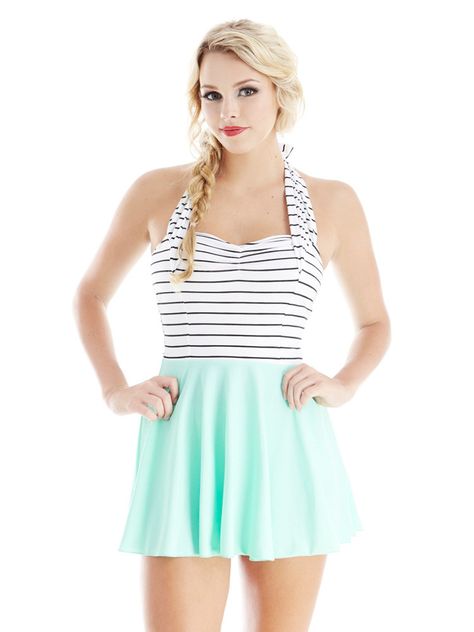 Source: reyswimwear.com
Swim dresses date back in the 1880s when the society was against women wearing anything that could be termed less modest. Although times and trends have changed, this swimwear remains attached to most people. The fact that one can enjoy sun penetration without having to expose too much of their skin makes it a big win for most women.
The swimwear comes in the form of a micro dress with an inbuilt bottom. Some selections also have padded bras for women with a full bust. Even though there are hundreds of other swimwear styles women come select, a majority still prefer the swim dress because of many reasons. First, they are perfect for any age, the full body coverage as well as the feminine look they portray. Plus size women also find the swim dresses a perfect and flattering fit especially because no excessive skin is left exposed.
With a swim dress, you can get to any store and no one will seem to notice you are in swimwear. Again, if you are on vacation, you do not need to rush to your hotel room to change into your regular clothes before taking lunch. The swim dress is decent, and most hotels have no restriction against wearing it during meal times. It could be the reason some people still go with the swim dresses. Neiman Marcus has a vast collection of this swimwear that you can have a look at on Neiman Marcus.
Monokini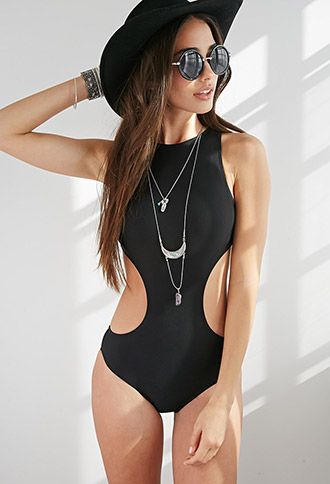 Source: Pinterest
Monokini is derived from two words; mono meaning single and kini assumed to be the singular form of the bikini. This swimwear was designed in 1964 by Rudi Gernreich whose intention was to create a topless swimsuit. The monokini consisted of a brief, a close fitting bottom and two straps that made a halter around the neck. According to Gernreich, the monokini was aimed at protesting against the repressive society towards women. His design attracted a lot of controversy across the USA, and only two of the suits were worn in public.
Since then designers have changed the monokini suit into a more societal-friendly style. Currently, the monokini resembles the one piece swimsuit where the breasts covered but with large cut outs on the front, side as well as the back. The cut outs are often connected to hold the top and bottom together. Some styles have a g-string bottom style at the back while others are fully covered. In a nutshell, monokini swimsuits are a great pick for women who love to showcase their sexy and aesthetic side. To get some inspiration for the latest monokini designs in the market today, visit eBay online store
There is no doubt that swimwear has evolved over the years. From bathing gowns that were quite uncomfortable in water to costumes that have very minimal fabric, there is no doubt about the vast evolution in this industry. Although tremendous changes have been in the women wear, men have also received a significant development as they aim at exposing more and more of their masculine bodies. The bottom line, however, is that past trends have inspired today's styles though with some few changes to fit the modern society. So, as you go about shopping for swimsuits this summer, be inspired by the above five types of swimwear that never grow old.