Americans are passionate about their Independence. To them, it's not just a day to celebrate the birth of this great nation, but a moment to showcase their trendy side. Every citizen looks forward to rocking something that keeps them comfortable, stylish yet expressing the patriotism they have for America. 
This year, on Fourth of July, America celebrates 230 years since the nation was set free from Britons rule. The day is only a few days away and 'what to wear' is the phrase on most people's conversations. While you have the freedom to wear just anything, adding a touch of the national colors to your clothing is no doubt a satisfying feeling. Whether you are planning a holiday, a barbecue with friends, a family reunion, a picnic or you will be relaxing at home as you watch fireworks, ensure your style is not compromised.
So, what will you wear?

As mentioned above, rocking a dress code with a touch of red, white, blue or the American stars is a big win on this day. Well, some people don't like the idea of wearing an outfit that has an aspect of the national flag. But does it hurt doing it for just one day since Independence Day comes once in a year? Again, who said you have to wear a complete replica of the American flag? If you don't like a replica, go for a touch of your favorite national color. 
Anyway, to get an inspiration of trendy styles you can put on this day here is a collection of outfits that are guaranteed to give you.

1.    American Flag Inspired Maxi Dress
Maxi dresses never get out of fashion.  Just like fireworks thrill citizens, a flowing maxi dress with American flag patterns or stripes will no doubt wow the crowd. You can opt for a strapless feature in this maxi dress for a sexy and trendy style. A maxi dress with a sweetheart neckline that displays your beautiful upper body will surely leave every head turning. The elastic waist also keeps you comfortable, fashionable and brings out your chic side as you hang out with friends. This dress is a perfect fit for a picnic, barbecue, an evening out or whichever activities you have on the schedule. Check out this American flag maxi dresses that are available in eBay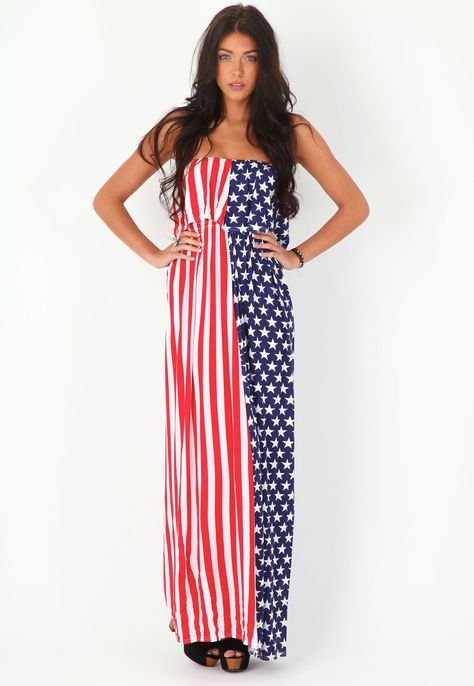 Source: Pinterest
 
2.    Mother and Daughter Dress Match
If you want to have a child who values her country and remains loyal as she grows up, help her understand patriotism when still young. There is no better way to explain the importance of patriotism to your little daughter than getting a matching outfit for mom and daughter this Independence Day. Think of a white top and a knee length striped royal blue and white skirt with a red belt for both of you. You can complete the look with simple sandals; Mom in blue and daughter in white. A headband with a national color can also be a great addition to your outfit. To complete the look, get a neutral color purse or sling bag. With this outfit, you can attend your scheduled activities for the day while feeling comfortable and stylish.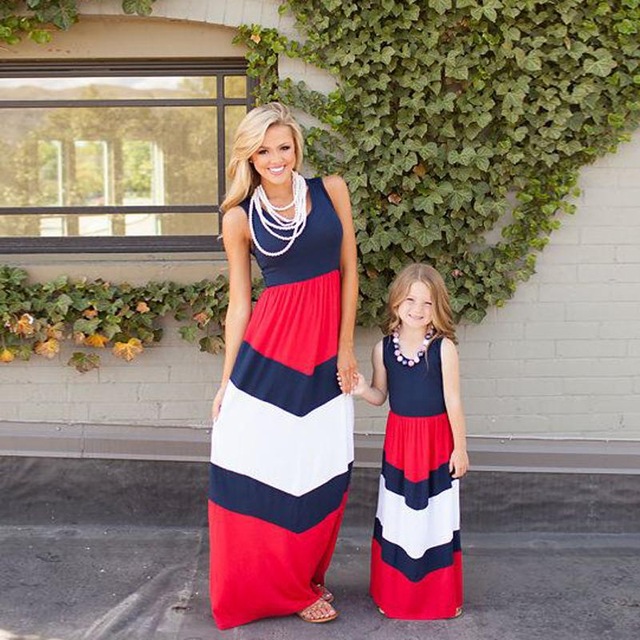 Source: Pinterest

3.    Patriotic Shoes 
It's time to put aside the America flag T-shirt and try out something different yet stylish as you hang out with your boys. Like many other accessories, shoes have a way to change an outfit mood to an entirely different look. It doesn't matter what your best shoe type is, just a careful selection will leave an eye-catching look on you. As the nation celebrates Independence Day, why not choose a pair of shoe that showcases your patriotism and national pride. It could be sneakers, flip flops, canvas or a pair of high heeled shoes. You only need to add a touch of the country's colors- red, blue, white or a sprinkle of the American stars. You do not need to have the entire flag printed on the shoes, but if you prefer it this way, there is no harm. Why not get some inspiration from zazzle here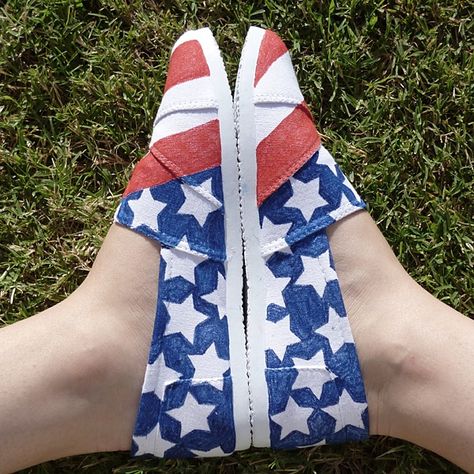 Source: Pinterest

4.    American Denim
Denim was used in California for the first time to make clothes. For this reason, Americans have a special bond with denim made outfits. Why not celebrate this year with a touch of blue denim from head to toe. There is unlimited selection to what you can rock on this day. From a casual short cutoff, denim pencil skirts, denim jumpsuits, jeans and jackets, the list is just endless. All you need is a perfect combination that feels comfortable and not stuffy. If you have an outdoor party to attend on this day, you can also consider complimenting the look with some white high heeled sandals and a glittering gold bracelet. Trust me; your spectacular look will give fireworks a deserved competition. Neiman Marcus stocks a variety of denim styles that will no doubt inspire you.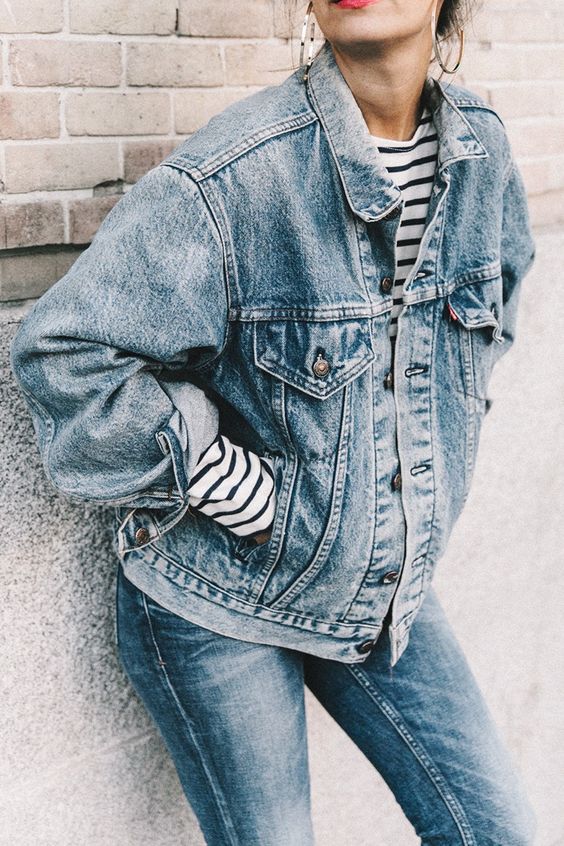 Source: Pinterest

5.    Hats and Caps 
There is something special about wearing a hat or a cap. Although the accessory has been there for years, it's just hard to let it go. Besides protecting your head from harsh sun rays this summer, hats and caps are a great accessory to complete your preferred outfit. The impressive thing is that you can have the hat in your favorite color or customized to reflect America's colors. Just figure out rocking a baseball cap with an American theme as you hang around to play the baseball game with friends on this day. Doesn't it feel satisfying? If you wish to rock a trucker, an embroidered hat or a visor, why not check some of the patriotic hats from Zazzle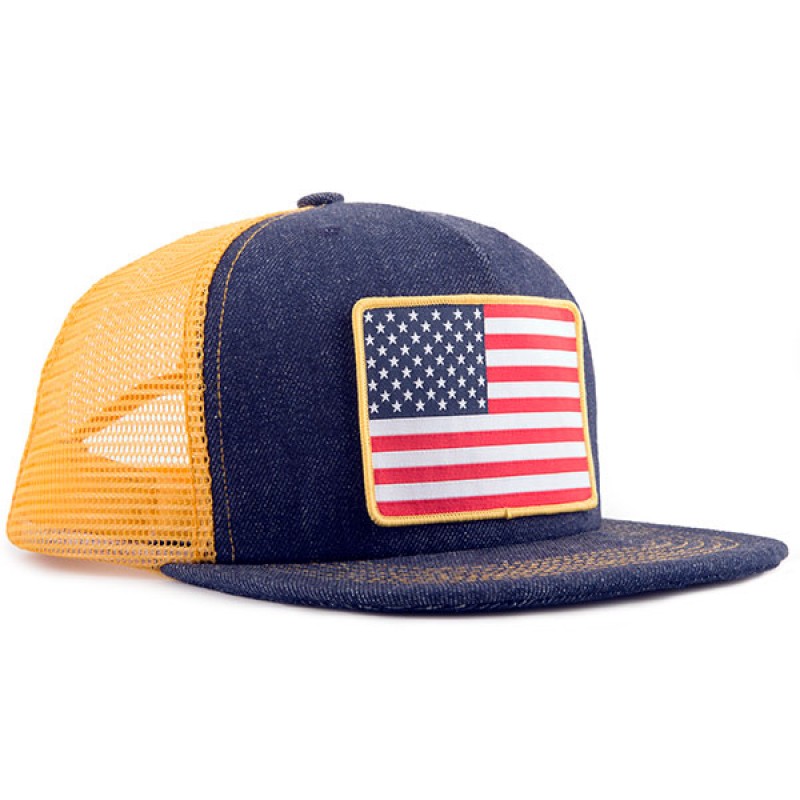 Source: Pinterest
As you can see, it is not that difficult to pull a great look this Independence Day. To make a style statement on this day, why not try out one of the above styles? If you don't want a complete replica of the flag, you can adorn yourself with patriotic accessories while the main dress code remains neutral. For instance, women can pair their outfits with bracelets, neckpieces or earrings that match the American flag. Men can also accessorize their look with themed scarves and if rocking a formal suit, a pocket square or a bowtie with an American theme would be a great pick. However, the bottom line should be wearing an outfit that you are comfortable with.