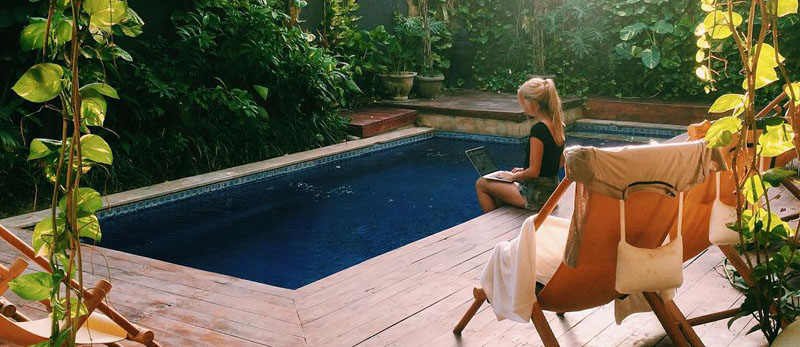 It's us again and we've got news.
We just picked the winner. His name is Lawrence Levine.
For the rest of the applicants: If you have any suggestions on how we can work together in the future or if you have any intentions of coming to Bali, please let us know. We will be happy to help.

Oh, and we are also hiring! So if you are looking for
something
new, talk to us!

Moving on.

Why we picked Lawrence?

Lawrence is one of those people that has done start-ups their entire career. His background is very compelling and he's done awesome things such as creating the first fetal ultrasound system. We believe the start-up community here in Bali will strongly benefit from having people like Lawrence. He might also bring the rest of his team here. How cool is that?

Here is Lawrence's winning application:
Biography
Founded and sold Trustwave (SecurePipe) and LFCI as well as several that didn't go quite as well (KnowBroker, Refer) but were great for learning lessons! Created first fetal ultrasound system. I've been in tech startups my entire career! After doing this for decades I love few things more than sharing what I've learned with other entrepreneurs. Coach to countless startups including ChartIQ, FireID, Ziibra, and many more. I've literally got starts world wide that I'm actively helping to navigate the various and often turbulent waters of their stage and market. I'm currently about to release horn® to the market! I'm not some entrepreneur turned VC. I'm all about execution and helping others around me do the same. Walking the walk.

Work Pitch
I'm presently working with a global team to build and launch horn! Come check it out at
https://horn.co
. We're in Beta at the moment but I'm developing launch plans with some of the top social media platforms in the world and expect great things in the next few months! We've got rock star dev and marketing teams and a equally rock star investor team backing us up.

Why Bali
The two things that get me going the most are making tech startups start up and kiteboarding. Bali is a great spot to kite and you guys are putting together a super cool startup environment! I'm sure that I could really add a lot to your crew and would have a great time doing it. I'm super high energy but also pretty seasoned (pragmatic) so I'm a really good mentor to other entrepreneurs. I've been massing huge startup entrepreneur karma points and I believe that giving back to the community is the whole point of having them! Also - I want to kite in Bali. :) Did I mention that already?

I love what you guys are doing! :) Regardless of my submission keep it up! It would take some coordination but I'd also be pretty interested in bringing my core team. They've been working really hard to get our product released and getting them all together in one place would be pretty great. Right now they are in the US (Biz Dev), Poland (Dev) and South Africa (CTO)
--

Thank you all again for your applications and we hope to stay in touch.

Keep an eye on our social media and blog for the latest updates.
Warm Regards,

Coupofy Team