Picnic Traditions Around the World
Alright folks, get your gingham table cloths and plastic utensils from Old Time Pottery, and that wicker basket you've never used. It's picnic time. Oh, and we cannot forget bug spray. Oh and wine. Annnnd that famous cheese from Wisconsin Cheeseman . Must have cheese and crackers. A baguette would be lovely too. With jam. Man, planning a picnic can be so fun! The best part is, traditional American picnics are just the beginning. So many traditions and various picnic activities take place all over the globe. Here are some great places to picnic if you catch the travel bug and find yourself in any of these countries.
America – New York City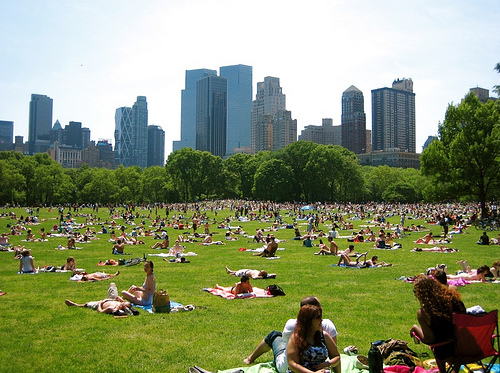 source: centralparkpicnic.net
Where: Central Park is a given. You're in a green oasis filled with huge trees surrounded by a massive bustling metropolis. Talk about the scenery.
But really, Americans picnic anywhere and everywhere. Most popular is your park, beach, while on a mountain hike. However, with the rise of "tailgating," you can pretty much have a picnic wherever your heart desires.
When: Ideal weather is critical for a successful picnic, so they tend to occur most often in the mild months. Depending on the location in the United States, you can hold a picnic really at any time of year. But summer is always the best!
Games: There is no limit to the game possibilities. It really depends on the amount of space one has to play said game. In a large space, team games are pretty popular (think whiffle ball, volleyball, kickball). More popular games include Corn Hole, Kan Jam, and Ladder Golf. If you're not familiar I suggest taking a look, these games are awesome and can be done with a cocktail in hand at all times. And no one can forget to bring a Frisbee.
Must-Have-Food: Anything that can be put on a grill. And I mean anything. Depending on where you reside in the US, the term Bar-B-Q has a different meaning. Some think BBQ is an act of cooking on the grill, basic burgers, and hot dogs. While others think it's an actual food group (ie pulled pork smothered in a vinegar based sauce). (and yes, I reside in the Carolinas). Of course, you'll need something cold. Sodas, beer, wine and a frozen treat like popsicles!
Europe – Paris
When I think about picnics in Europe, my imagination takes me to the Eiffel tower, where I'm on a blanket with my Parisian boyfriend, eating baguettes and drinking champagne. Anyone else?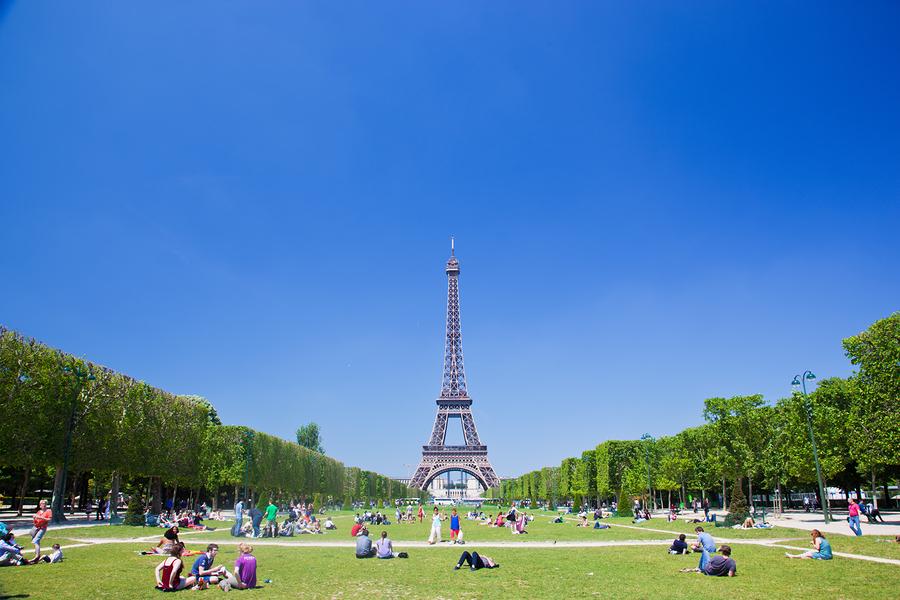 source: apartmentsinparis.com
Where: Parc Du Champ De Mars. This local has everyone. A long stretch of grass, urban feel, playground for kids and a fantastic view of the Eiffel tower.
But it's Europe so really anywhere will work. With so much beauty and historical landmarks to enjoy you can't go wrong.
When: Any day when the sun is shining and a breeze is blowing. Typically you'll find that after eating a delicious mix of cheese, bread and pastries, a nap will be necessary. Basking in the sunshine is always a good time.
Games: From what I've gathered, a Parisian picnic is much more about enjoying scenery, the food and company and less about activities. However, if you're into games, I'd go with Frisbee.
Must-Have-Food: Anything local and fresh. Think various cheeses, meats, fresh fruit, seasonal veggies, warm bread.
Australia - Sydney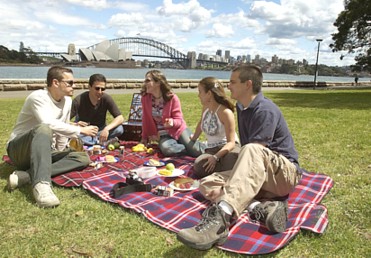 source: international.mq.edu.au
Where: Sydney Harbour or any beach in this glorious country.
When: Luckily, mild weather kisses this city year round, but I suggest hitting this picnic spot in the evening, just before dusk. Why? SUNSET!
Games: Baseball and any kind of netball games are really popular. Think volleyball or badminton. During Picnic Day, folks bring out traditional games with play tug-o-war and a variety of races (sack races, 3-legged, egg and spoon).
Must-Have-Food: A picnic loaf. This roll of goodness includes all kinds of goodies (prosciutto, salami, eggplant, cheese, more meat, more cheese) in an easy to eat inside out sandwich. Perfect for picnics!
Africa – Cape Town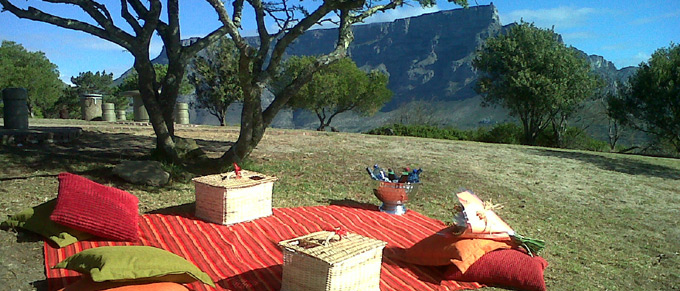 source: dialapicnic.co.za
Where: Table Mountain (bring a blanket because it's not really "grassy") Or better yet, picnic on a safari! Watch out for animals looking for a bite.
When: Evening, sunset. You'll be looking down onto a city, and the lights are incredible, not to mention the stars.
Games: Attendees will almost always gather for a game of bowls. Think US bocce ball - a smaller ball and larger balls are tossed with the goal of getting your ball closest.
Must-Have-Food: Traditional South African picnics typically serve meatball pittas, 7-colour rice and a dip spiced up with cumin and aubergine, chicken wings and crisps. Of course fresh fruit and veggies are always welcome!
Asia - Japan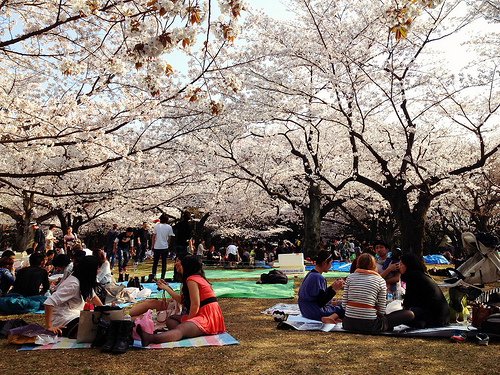 source: kcpwindowonjapan
Where: Yoyogi Park
When: In the spring, during cherry blossom season would be ideal, but due to a fairly mild climate, any time of year works (except winters can be snowy).
Games: Suikawari, Batsu, and mass skipping are most popular picnic games. Yeah, I didn't know what they were either but after further investigation they sound amazing. Suikawari involves splitting a watermelon with a stick (it looked safe). Batsu is a betting game where the loser must experience a funny punishment as a result of losing. Mass skipping is exactly what you think it is.
Food Must Haves: It's all about the bento box. It's like a lunch box filled with seasonal treats that are easy to eat. Other traditional picnic menus include homemade items. Don't leave home without onigiri. These rice balls are tightly packed making them easy to travel and consist of fillings like pickled plums, and pieces of fish.
Whether you're getting your picnic on in the US of A, or atop a mountain in South Africa, the thing to remember is there is no wrong way to host a picnic. As long as you're outside enjoying the sunshine with your family and friends, eating great food, drinking cold beverages and playing a few games, you're all set. Get your supply of food from Vons and don't forget to use our coupon for Vons. Happy International Picnic Day!