5 Extraordinary Things about Doughnuts
Who doesn't like doughnuts? Doughnuts are one of the most iconic and popular pastries in America and has become almost a staple in boardrooms across the nation. But the tasty treat is becoming more and more popular across the globe and billions of doughnuts are fried and sold every year in different parts of the world.
Americans have a huge appetite for doughnuts and take more than 10 billion doughnuts every year. As a token of appreciation, National Doughnut day was instituted across Canada and the United States so that doughnut lovers across North America can gather together and enjoy these little pieces of heaven. In honor of this special day, here are a few extraordinary facts about doughnuts that most doughnut lovers do not know:
1. Extraordinary doughnut shops
The high demand for doughnuts has attracted many entrepreneurs to join the industry, and in America, you can hardly walk for more than three blocks without spotting a doughnut shop. Doughnut shops use different methods to differentiate their brands from their competitors.
Spudnuts, a doughnut shop based in Los Angeles, is one of the outstanding doughnut shops that caught many people's attention because of its originality. Two brothers established the shop in the 1940s and were the first to hit the Los Angeles market. The shop stood out for decades because its doughnuts were made of potatoes instead of flour. Spudnuts sold potato doughnuts for decades and opened independent shops selling the same type of doughnuts. The parent company was dissolved but some independent shops continue to sell this unique brand.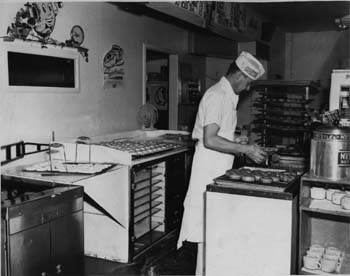 Leonard Dunn, making Spudnuts at the Golden Spudnut Shop, 1953 source: spudnutshop.com
2. Extraordinary doughnut toppings
When doughnuts were first introduced, chocolate covered doughnuts we the norm. Since then, bakers have experimented with different flavors and types of toppings over the years.
While the market for the traditional chocolate doughnut is still large, bakers have invented new toppings in a bid to stand out and give their clients a new treat every day. Cereal and biscuits toppings are becoming more and more popular among specialty doughnut shops across the nation.
Create your own doughnut topping? why not! it could be the next big thing. Be creative by buying the ingredient from Vons and don't forget to use our coupon deals for Vons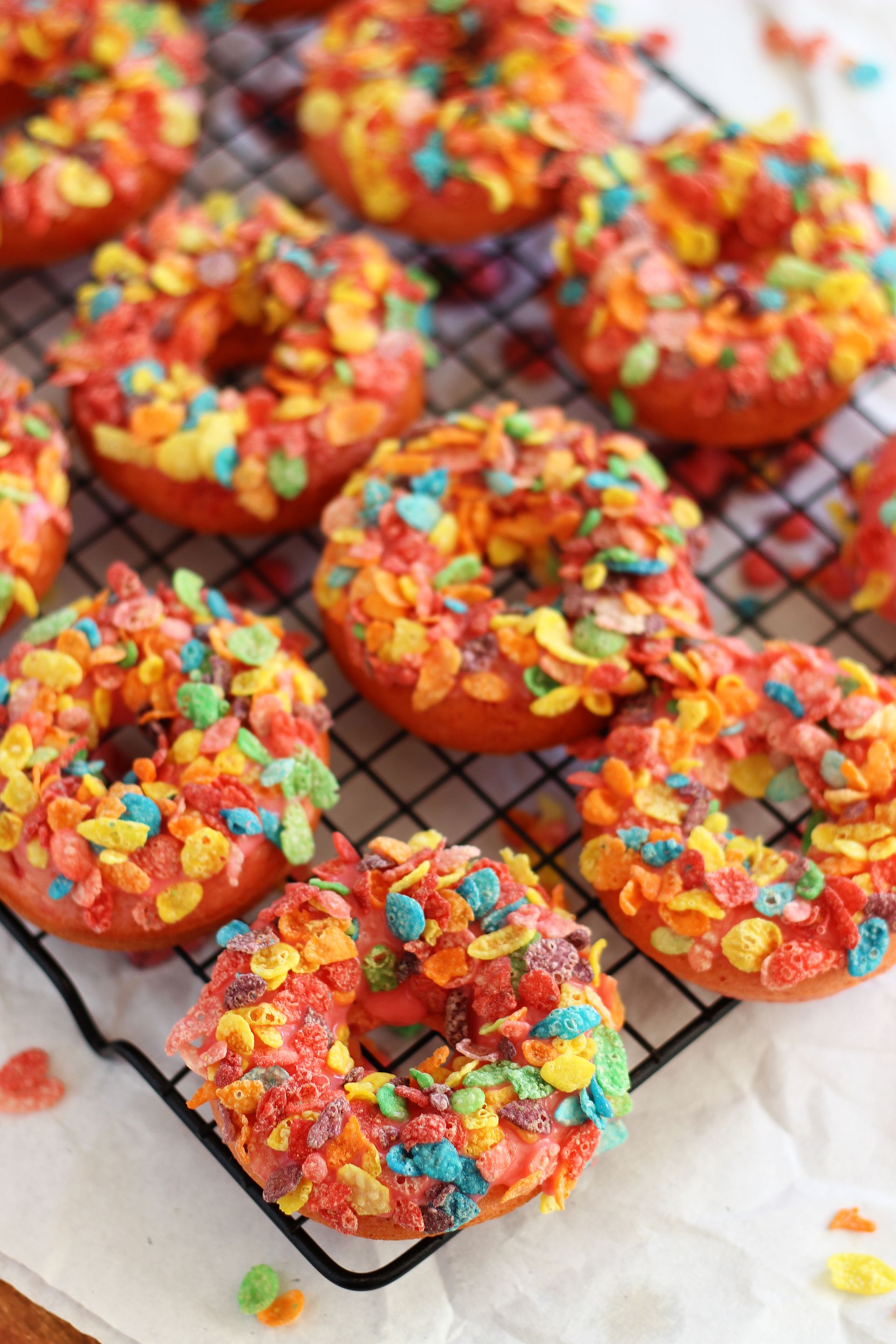 source: thegoldlininggirl.com
Have you heard of bacon doughnuts? At first thought, bacon shouldn't be a doughnut topping, but more and more people gravitate towards unusual doughnut toppings for novelty. Bacon toppings are slowly gaining popularity with some bakers combining the bacon with maple icing.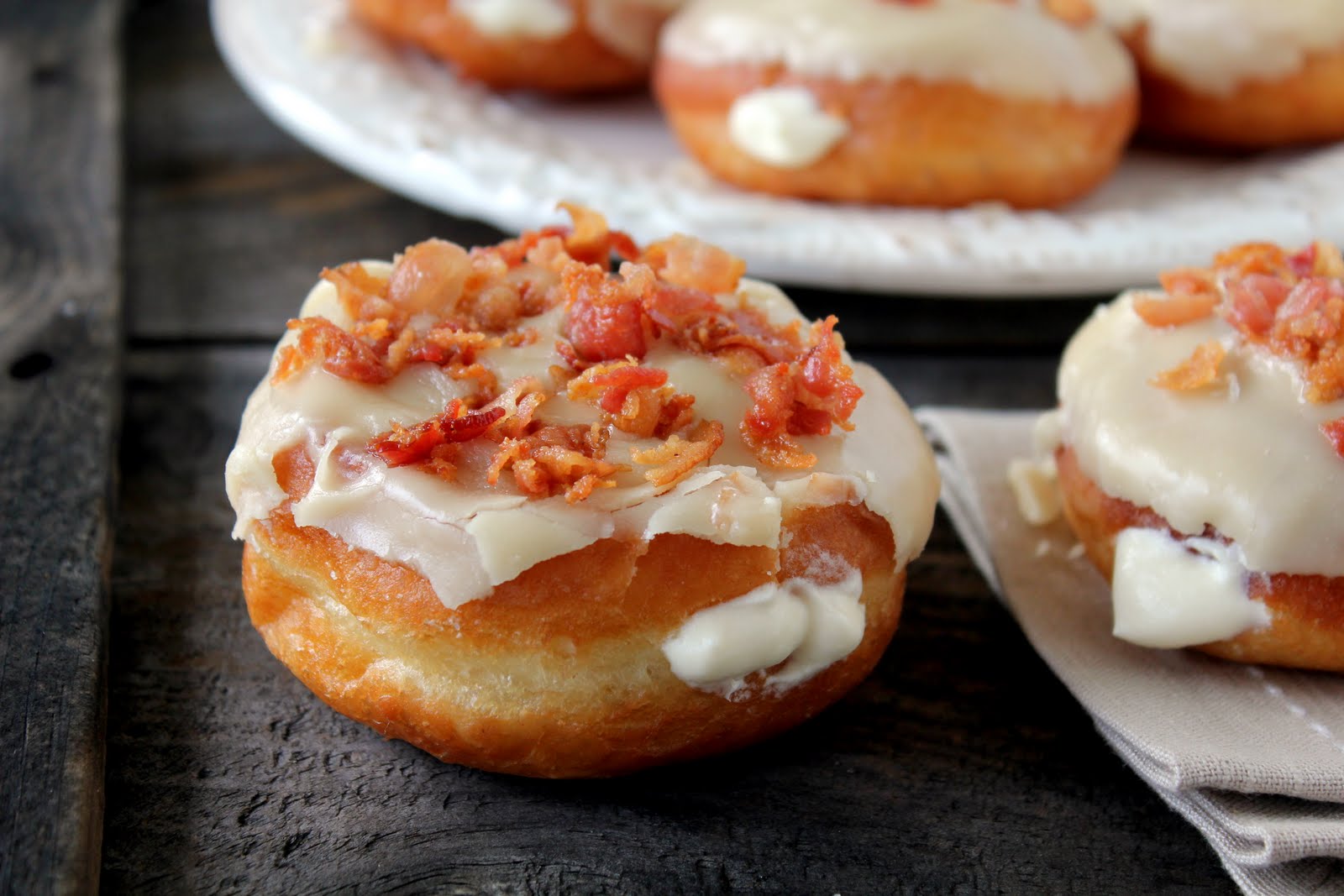 source: cherryteacakes.com
3. Extraordinary doughnut creations
Cooks are always inventing new ways of preparing the same food and doughnuts have not been left out. New creations of doughnuts have been introduced. One of the recent innovations in the world of doughnuts is the doughnut shortcake. To prepare this delicacy, strawberry cake ingredients are sandwiched between two halves of a doughnut. Cake icing is used to top the doughnut shortcakes.
Another creative invention is the doughnut ice cream sandwich. This is a perfect snack for the hot weather. Scoop your favorite ice cream and sandwich it in doughnut halves. You can refrigerate it for a while so that the ice cream does not melt when you eat. Other creative inventions include doughnut burgers, doughnut bagels, and doughnut pie. However, the latest extraordinary creation is the cronut, which is made of croissant dough. The dough is fried in flaky layers and then topped with cream. The cronut has swept the nation and there are cronut shops opening in every part of the country.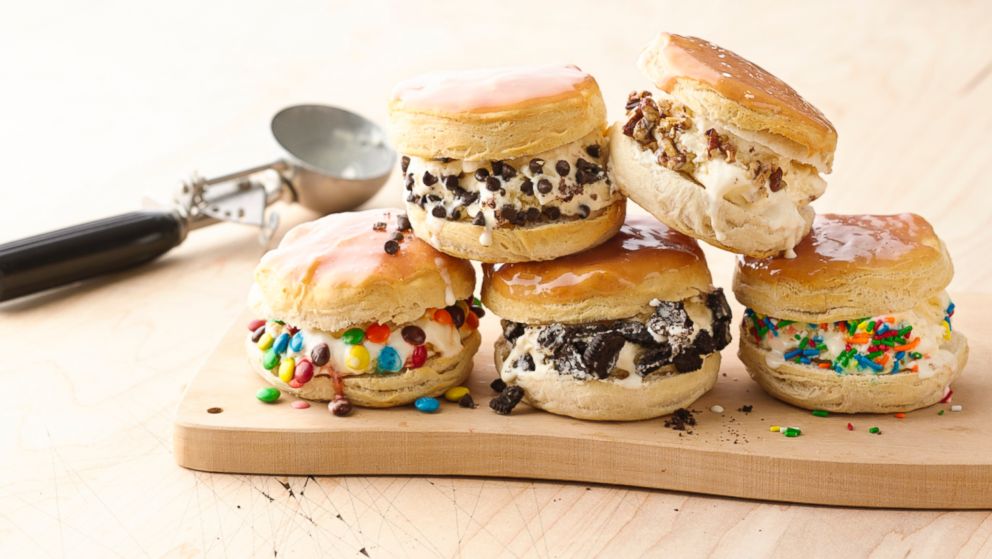 source: abcnews.go.com
4. Extraordinary way to eat doughnuts
Many chefs across the nation have invented new ways to eat doughnuts. In addition to the bacon toppings and doughnut ice cream sandwich mentioned earlier, new ways of enjoying doughnuts have been introduced. One of these creations is the doughnut breakfast sandwich. The recipe is simple, take a fried egg, bacon and cheese, and sandwich it between the halves of a fresh doughnut.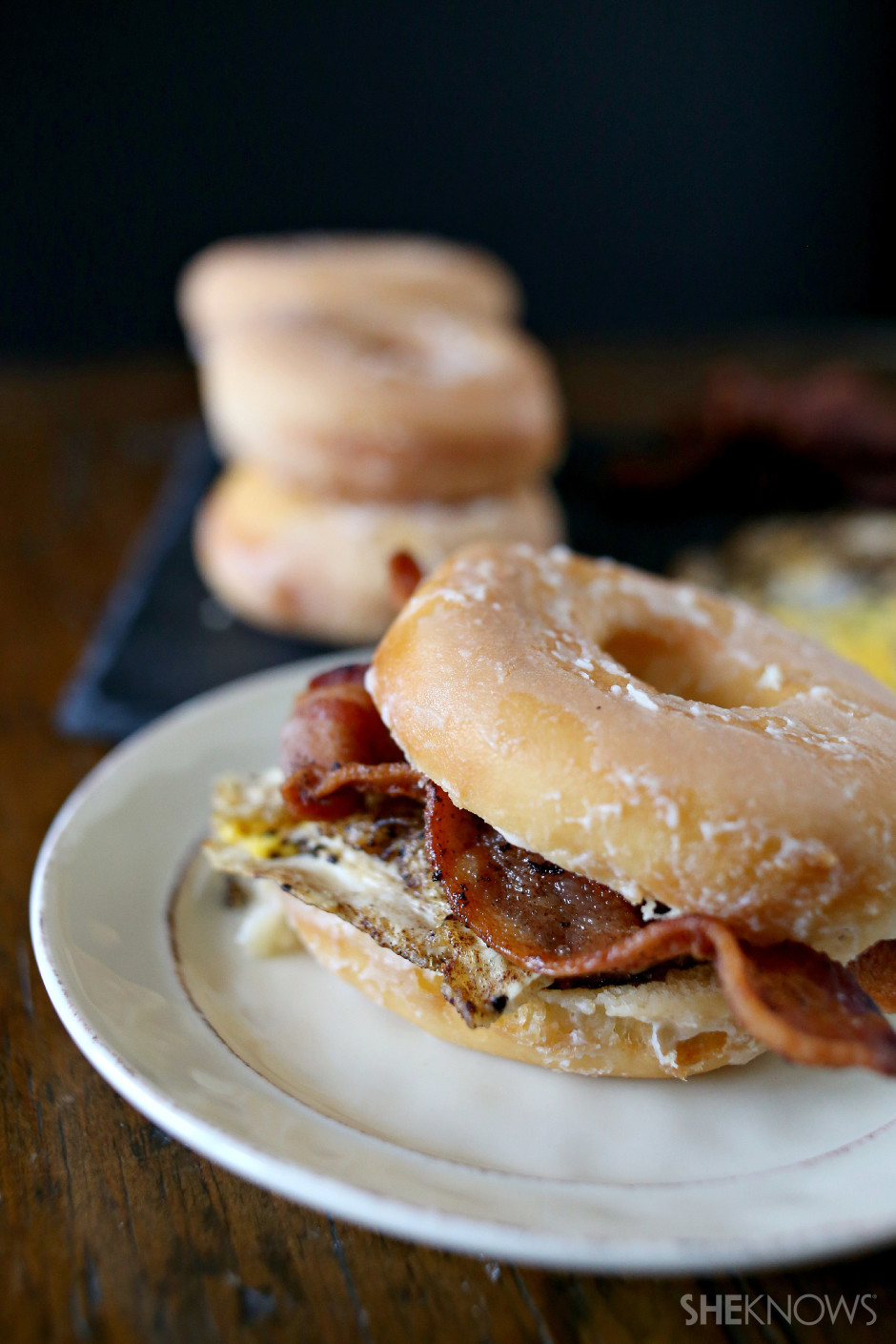 source: sheknows.com
Doughnut grilled cheese sandwich are another interesting spin on the trend. Just take a plain doughnut, cut it in two halves, place a slice of cheese between them and throw it under your favorite griddle.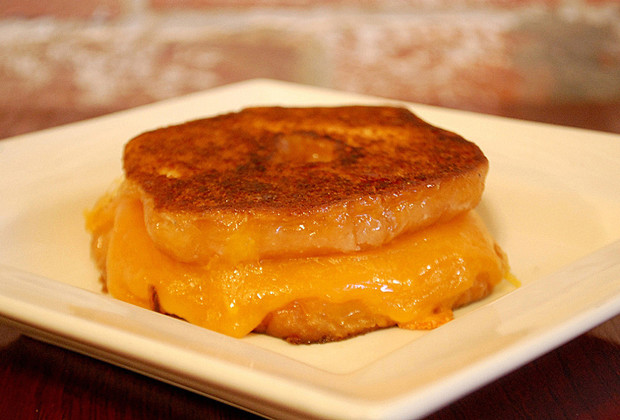 source: vocativ.com
Are you more on the adventurous side? Why don't you try a doughnut milkshake? Just simply blend your favorite ice cream with your favorite flavor of doughnut or multiple flavors at once for a smooth, creamy taste. If you are a sweet tooth, there are literally thousands of ways you can enjoy this delicious treat.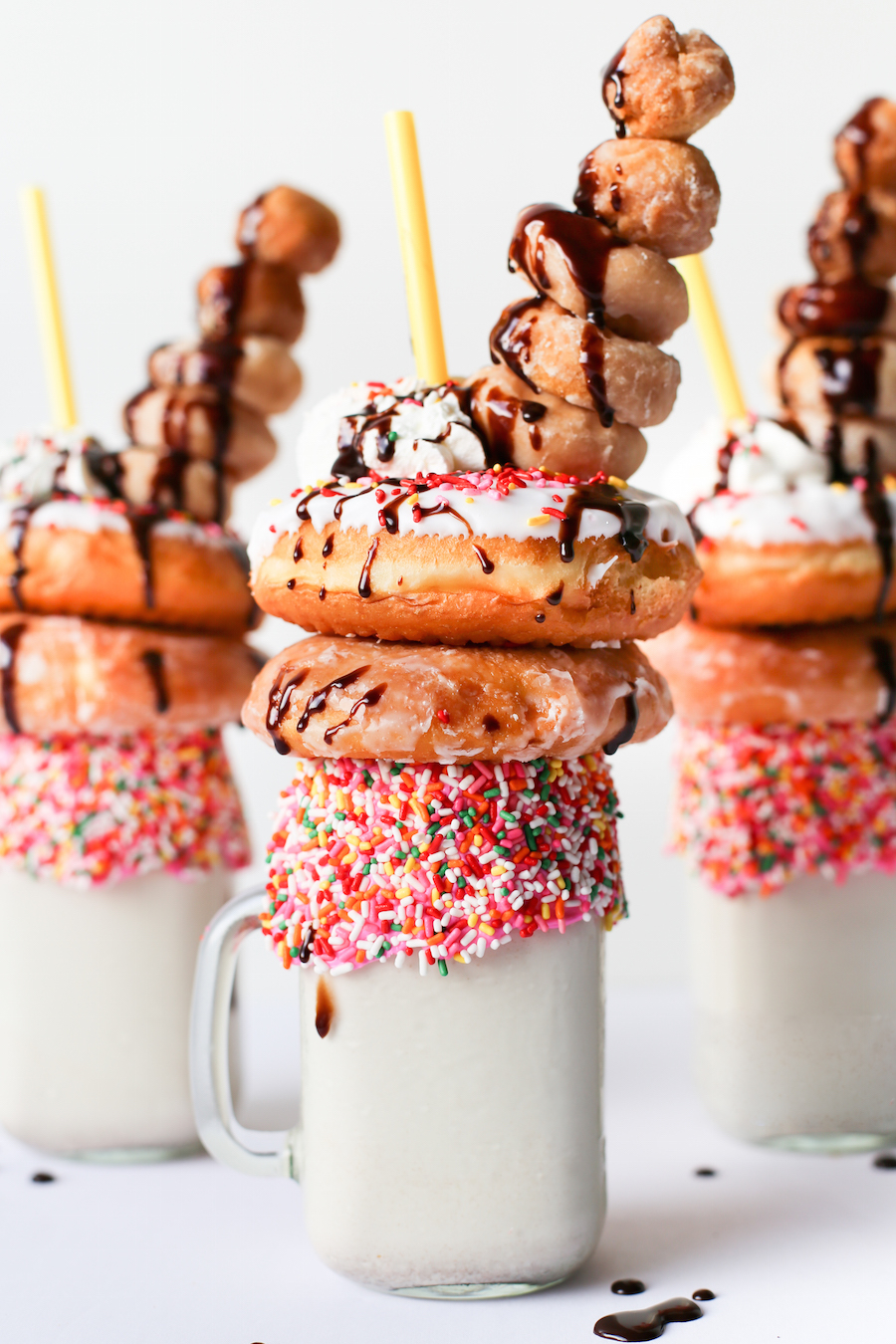 source: http://www.saltycanary.com/
5. Extraordinary people obsessed with doughnuts
Although doughnuts are tasty and a favorite snack for millions of people, most people keep their doughnut consumption to a minimum. Many people are cautious about their health and strive to eat a healthy diet. However, a small percentage of doughnut consumers are obsessed with the snack.
Such people may take several doughnuts in a day and at least one doughnut every day. So much so that even doughnut eating contests have been instituted across the globe.
In the 1930s, a National Doughnut Dunking Association was formed and registered stars such as Martha Graham, Pearl Buck, Johnny Carson, and Jimmy Durante. Today, John Haight holds the Guinness world record for eating 29 doughnuts within 6 minutes. Renee Zellweger is also famous for her doughnut obsession. She ate 20 doughnuts every day to increase her size from 6 to 14 within 3 months. The actress needed to gain weight to play her role in "Bridget Jones: The Edge of Reason."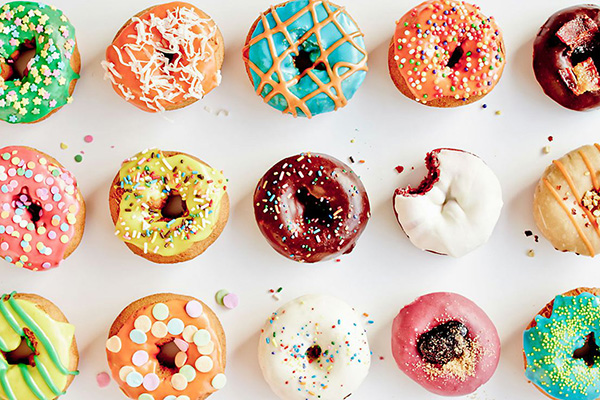 source: firely-events.com
Since their creations, doughnuts have been one of the favorite delicacies in North America. Doughnuts are virtually enjoyed by everyone and new innovations are being introduced every day. In honor of National Doughnut day, why don't you gather with your family and enjoy this tasty treat together? It will be fun to enjoy today by creating your own doughnut. Head over to our coupon deal from vons.com